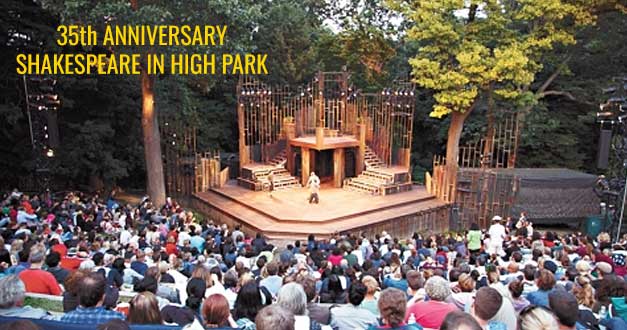 June 29 – September 3, 2017
High Park Amphitheatre
King Lear: Tue, Thu, Sat @ 8pm
Twelfth Night: Wed, Fri, Sun @ 8pm
Run Time: 90 minutes (no intermission)
canadianstage.com

Head to the High Park Amphitheatre for a pay-what-you-can performance of two Shakespeare classics, King Lear and Twelfth Night! The two plays have been re-imagined for an exciting new perspective on the tales. Canada's longest-running outdoor theatre event celebrates its 35th year with bold new takes on two Shakespeare classics. Get transported from the enchanted musical shores of Illyria, setting for the madcap comedy of mistaken identity Twelfth Night (or What You Will), to the divided kingdom of King Lear, one of the most monumental works of English drama.
About King Lear
As a method of dividing her kingdom in three parts, Queen Lear demands that her daughters, Goneril, Regan, and Cordelia compete in declarations of their love for her. Misjudging her children's loyalty, she soon finds herself in the middle of a civil war, stripped of her family, kingdom and crown.

About Twelfth Night
A young noblewoman, Viola, is separated at sea from her twin brother Sebastian and tossed upon the shores of Illyria, where the love-sick Duke Orsino pines for Countess Olivia and mischievous servants plot foolish pranks at each other's expense.