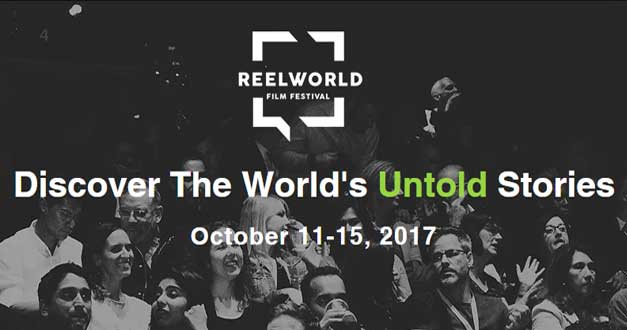 October 11-15, 2017
Harbourfront Centre
www.reelworld.ca
Now in its 17th year, the Reelworld Film Festival is dedicated to harnessing the power of film as a force for social good. We believe great stories are the beginning of great solutions. Our mission is to unlock the power of film by connecting inspired people to inspired partners. Reelworld is for you – a generation of socially engaged citizens who care about how your lives impact your community and the planet.
Watch docs and narratives exploring everything from the refugee crisis to climate change and civil rights. After each screening, you'll meet activists, non-profits and leaders on the ground making tangible impact in our Conversation Room. Choose from 30+ films and see how you'll go from passive viewer to active changemaker in one move.
The fun doesn't stop once the credits roll.
OPENING NIGHT
Join us on Wednesday, October 11, 2017 for the opening night celebration of the 17th annual Reelworld Film Festival. The evening will include a cocktail reception, a world premiere film, and an engaging Q&A with the filmmaker and special guests.
FILMS
Watch compelling documentaries, dramas, and short films that explore the world's untold stories. Choose from films that demand justice, challenge the status quo, and lead the charge for change. Join us October 11th to 15th, and select from 30+ films which showcase the power of storytelling when igniting social change.
VIRTUAL REALITY
Experience new worlds through immersive Virtual Reality films. Discover how innovative storytellers are engaging audiences, addressing pressing issues and helping us to better understand the world. This is a FREE event, hosted at the Toronto Reference Library, Saturday, October 14th.
VIDEO GAMES
Play some of the newest and most innovative video games, and engage with the power of storytelling like never before in our Gaming Arcade. This is a FREE event, hosted at the Toronto Reference Library, Saturday, October 14th.