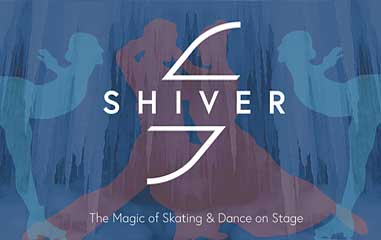 Friday February 9th @ 7:30pm
Saturday February 10th @ 4pm and 7:30pm
Glenn Gould Studio
Born of an incredible passion for their crafts and the dream to blend the worlds of figure skating & dance, the Shiver Show started simultaneously and separately in the minds of KulKat Entertainment Founder Kristina Kulikova and her partner Anton Azanov, and Chantal Fry, Founder of Glisse on Ice Shows. Seeing each other's work online, Chantal & Kristina decided to share their ideas about a grand theatrical presentation over coffee… and so Shiver Show was born. From a small joint project, the idea grew into a unique large scale production featuring 7 different genres of dance such as Ballet, Ballroom, Latin, Tap & Burlesque, elements of circus arts including Lyra & Pole performances, Musical interludes of beautiful operatic vocalists and of course the magic of Figure Skating.
A unique new Toronto-based Theater Production combining the art of professional Figure Skating, Theater, Dance & Music-on stage !
Grand Reception 45 minutes prior to every show feature exquisite painting auction, live music, cash bar & incredible atmosphere.
Ticket Info: www.shivershow.ca/buy-tickets/
Standard Seating: $85 Premium Seating: $110