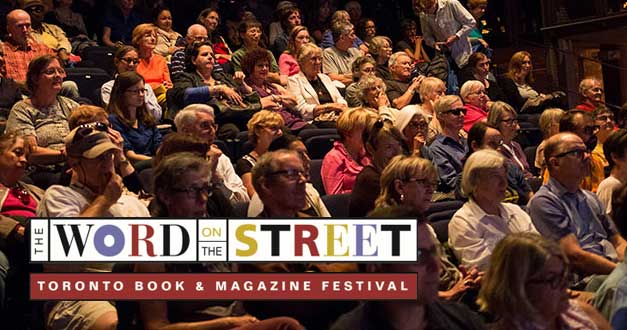 Sunday, September 24, 2017
Harbourfront Centre | 11:00 am – 6:00 pm
www.thewordonthestreet.ca
The Word On The Street unites the country in a national celebration of literacy and the written word. Annually attracting more than 200,000 visitors. The Word On The Street Toronto is the largest book and magazine festival in Canada.
Participate in hundreds of author readings, discussions, and activities, and shop in a marketplace that boasts the best selection of Canadian books and magazines you'll find anywhere. There is always plenty to see and do at Canada's largest book and magazine festival, and best of all, The Word On The Street and all of its events are FREE!
Main Attractions in 2017
Discussion Panels
There was a wide selection of panels to choose from this year, including, Of Men and Gods, Robert J. Sawyer, Lesley Livingston, and a whole day of literacy programming at our Learning Station! Check out the full event schedule.
Family Fun Activities
Every year, there are exciting activities for the kids all day! In 2017, kids will the chance to enjoy events on six stages at the festival.
Exhibitor Marketplace
The Word On The Street's Exhibitor Marketplace is the largest of its kind in Canada. It offers festival-goers a window into the Canadian literary scene, the chance to purchase books from over 250 vendors – it's Canada's biggest outdoor bookstore!
Hidden Gems at The Word On The Street
Guerilla Poetry in Canada Square
Poetry comes alive at The Word On The Street when the 2017 BAM! Youth Poetry Slam team performs at 1:00 PM and Toronto Poetry Slam team at 3:00 PM in Canada Square, just east of the Power Plant!
TD Interactive Storybook – Share Your Story
As title sponsor of TD KidStreet, TD will be giving attendees a chance to have their picture taken for free inside a giant, 12-foot storybook.
Author Cruises on the Tall Ship Kajama
Join a bestselling lineup of authors for four 60-minute Author Cruises on the beautiful Tall Ship Kajama. Cruises board at 11:00AM, 12:30PM, 2:00PM, and 3:30PM.
Entrée libre French Poetry Slam Workshop (2-hours) – FREE
Join in a free slam poetry introductory workshop to help you develop your creativity and writing techniques through games and group exercises.