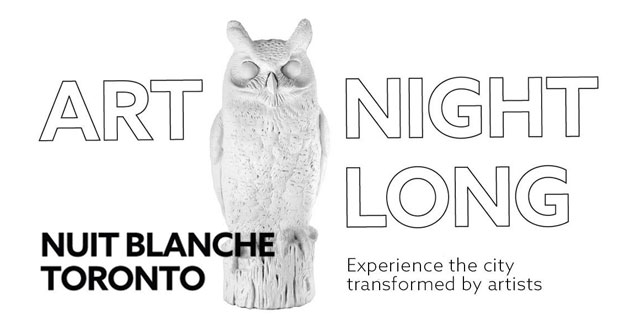 September 30, 2017
GTA Citywide
From Sunset to Sunrise
www.nbto.com
Toronto's free all-night contemporary art event, the magic of Nuit Blanche Toronto returns from sunset to sunrise on September 30, 2017. Experience Toronto transformed by artists for one night only, all night long.
Nuit Blanche Toronto is produced by the City of Toronto in collaboration with Toronto's arts community.
Nuit Blanche was originally conceived in Paris, France in 2002, in an attempt to bring contemporary art to the masses in public spaces. At its core, Nuit Blanche is a 12-hour event with a mandate to make contemporary art accessible to large audiences, while inspiring dialogue and engaging the public to examine its significance and impact on public space.
In 2006, the City of Paris producers of the founding Nuit Blanche invited the City of Toronto to join the assembly of more than six European cities producing similar all-night art and cultural events. Toronto was the first North American city to model itself based on the City of Paris Nuit Blanche and has inspired further similar celebrations.
Nuit Blanche Toronto is a free contemporary art event that cultivates meaningful artistic and curatorial engagement for the broadest public. From sunset to sunrise, city spaces and neighbourhoods are transformed into a temporary living museum of Exhibitions populated by compelling artworks. Unusual or forbidden spaces become sites of contemporary art and facilitate an a night of discovery and rediscovery. The everyday is suspended as the City's landscape is transformed to welcome a variety of artistic experiences. Cultural institutions, museums, galleries and artist-run centres, open their doors and offer free access to contemporary art.
For event map visit nbto.com/program/event-map.html
Related Article: Artistic program announced today for the 12th edition of Nuit Blanche Toronto