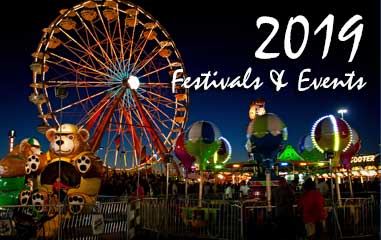 The City of Barrie, Orillia and surrounding area continues to be one of Canada's fastest growing and dynamic cities. Its location in proximity to the great outdoors and recreational activities promotes an active and healthy lifestyle. The following festivals and events are presented at various location in Barrie, Orillia, and the surrounding area.


MAR
APR
MAY
JUN
JUL
AUG
SEP
OCT
NOV
March 1, 2019
11th Annual Ladies Day – A Winter Wonderland
Address: Snow Valley Ski Resort, 2632 Vespra Road, Midhurst
www.skisnowvalley.com
It's always Winter on the slopes…and this year Snow Valley will be turning their Day Lodge into a Winter Wonderland themed party on Friday March 1st, at the 11th Annual Ladies Day. A fun and exciting day including a morning ski lesson, lift ticket, awesome swag and gift bag, lunch, apres social and great prizes.
Event Time: Starting at 9:00am
Admission: $139* or $119* with Valid Pass
---
March 2, 9, 13, 15, 16, 23, 30, 2019
Guided Night Snowshoe Hikes at Scenic Caves
260 Scenic Caves Road, Collingwood
www.sceniccaves.com
Strap on your snowshoes for a night-time hike, where stars and shadows create a dramatic setting for adventure. Your experienced guides lead your group on a 1 ½ to 2 hour romp through an enchanting winter wonderland. Experience beautiful trails that wind through a mature forest of 100 foot tall trees, sparkling views of the countryside at the Suspension Bridge and breathtaking lookouts from the top of the Niagara Escarpment. No experience is required and the pace is moderate. Recommended for ages 10 and older. Night snowshoe hikes are scheduled for most Saturday nights (plus additional holiday hikes) and run weather-permitting. If there is no snow, guests will be advised to wear hiking boots instead.
Admission: $49
---
March 5-7, 2019
ONTARIO 55+ WINTER GAMES
Various location
www.huntsville2019.ca
The Ontario 55+ Winter Games is a celebration of active living. Hosted annually, alternating between Winter and Summer, the Games bring together people 55 years of age or older for competition and camaraderie. The Ontario 55+ Winter Games, first held in Collingwood in 2000, are hosted in February or March in odd-numbered years. Approximately 1,000 participants attend the Winter Games.
---
March 7-24, 2019
South Simcoe Theatre Presents 'Dancing at Lughnasa'
The South Simcoe Theatre, 1 Hamilton Street
www.southsimcoetheatre.com/index.php/shows-box-office
This moving Irish drama won multiple awards and has captivated audiences for decades. Centering on the lives of five sisters struggling to survive in rural Ireland in 1936, as remembered by one of their sons, the story moves through hope, tragedy, beauty, and music as it captures a time mostly forgotten. An experience not to be missed.
Show Times: Thurs – Sat: 8pm & Sun: 2pm
Admission: $20.00
---
March 16-17, 2019
Barrie Spring Garden & Home Show
Bradford Greenhouses, 4346 Highway 90, Springwater
barriespringshow.com
Bradford Greenhouses is pleased to present the annual Barrie Spring Garden & Home Show. A show that is dedicated to re-imagining your living space! From home renovation to landscaping, and interior design; whether you are an exhibitor looking to showcase your product, or a consumer looking for inspiration and ideas to improve your home and garden; this is the show for you! The Barrie Spring Garden & Home Show will be held on March 16th – 17th, 2019 at Bradford Greenhouses Garden Gallery in Barrie, located at 4346 Highway 90 (4 kms west of Hwy 400 on Dunlop).
Event Time: Saturday 10am – 5pm and Sunday 10am – 4pm.
Admission and parking are FREE!
---
March 23-24, 2019
28th Annual Sweetwater Harvest Festival
Wye Marsh Wildlife Centre, 16160 Highway 12 East, Midland, ON
www.wyemarsh.com/sweetwater
Escape to a time when maple syrup was made over an open fire, experience our history and explore nature at its best. The festival celebrates the history of maple syrup and the role it plays in our cultural and natural heritage. Sweetwater is not your average maple syrup festival. Beyond the sugar shack tours, pancakes and taffy tasting, there is so much more to the weekend-long festival including birds of prey demonstrations, live music from local artists, kids games & activities, woodcarving demos; and of course chickadee feeding!
Admission: $10.00 Adults; $5.00 Children Aged 4-17
April 13-21, 2019
Chappell Farms Spring Festival (Weekends)
Chappell Farms, 617 Penetanguishene Road
www.chappellfarms.ca
Leave the winter blues behind when you and your family enjoy a Spring day on the farm. You will see baby farm animals, go on a wagon ride, watch a magic show, enjoy plenty of play areas and jumping castles. The best part is the large candy hunt done every hour!
Event Time: April 13 – 14 & 19-21 from 10am – 4pm
---
April 26, 2019 | 6:00 pm
Roots North Music Festival
Downtown Orillia
www.rootsnorthmusic.ca
Roots North Music Festival brings together amazing performers for a weekend of great live music in Downtown Orillia. The Roots North Music Festival will showcase Juno winning Canadian singer/songwriter Ron Sexsmith as one of their headline performers during the 5th annual festival taking place this April.
---
April 22, 2019 | 3:30 pm – 5:00 pm
Earth Day Festivities
Downtown Orillia
Orillia residents will be cleaning up & beautifying our downtown on Earth Day! Come help out and clean up your downtown & stay for the Earth Day festivities happening throughout the downtown core.
---
April 20 – May 11, 2019
38th Annual Orillia Perch Festival
Lakes Simcoe and Couchiching, Orillia
Welcome to the 39th Annual Orillia Perch Festival! Lakes Simcoe and Couchiching, Orillia, Ontario, Canada. One of Canada's Largest Registered Fishing Derbies! Over Sixty Tagged Perch worth $500 Each! Plus … Bonus Perch & Thousands of Dollars in Daily, Weekly and Grand Prize Draws! JUST FISH TO WIN !!!
Opening Ceremonies
Friday, April 19 – 7:00 pm
ODAS Park, Fairgrounds Road
Special OPP Ki4s' Day
Saturday, May 05
11:00 am to 1:00 pm
Tudhope Park, Atherley Road
Closing Ceremonies
Saturday, May 11 – 7:00 pm
ODAS Park, Fairgrounds Road
May 24 – 25, 2019
15TH ANNUAL BARRIE WATERFRONT FESTIVAL
Dunlop St., Memorial Square & Heritage Park, Barrie
barriewaterfront.ca
Annual Barrie Waterfront Festival spring line-up will present live bands from a variety of genres. For your added enjoyment, free outdoor entertainment will be brought to the table: street buskers, a midway with rides, face painting, street vendors, fresh food, treats, and contests.
Don't miss this weekend with your family; eat, drink and have fun while sharing in Barrie's terrific community spirit.
---
May 25, 2019 | 9:00 am – 5:00 pm
Into the Green & Blues Street Festival
Downtown Orillia
Experience live music, outdoor games, an interactive photo booth, entertainment for the kids including bouncy castles, an obstacle course, face painting and of course, amazing sidewalk sales!
June 1, 2019
CELEBRATE BARRIE
Centennial Park, 65 Lakeshore Drive, Barrie, ON
www.barrie.ca/Culture/Festivals/Pages/CelebrateBarrie.aspx
Join in the fun and celebration at Celebrate Barrie! The 13th annual celebration of our community will be held along the beautiful shores of Kempenfelt Bay on Saturday, June 2nd from 10:00 am to 5:00 pm. This free festival features fun for the whole family including inflatables and rides, animal shows, local entertainment on two stages, historical reenactments, and over 50 community groups providing hands-on activities.
---
June 6 – 9, 2019
Barrie Automotive Flea Market
Burl's Creek Event Grounds, Oro-Medonte
www.thebafm.com
Canada's Finest Automotive Flea Market offers over 2500 vending spaces and 1000 camping sites. There is everything from collectibles & classic cars to those hard to find car parts. If you can't find it here, you can't find it anywhere. It's a Car Lover's Dream – Car Sales Corral, Sunday Auto Auction, Show & Shine and thousands of vendors. You won't believe your eyes. Bring your friends & family and stay in our convenient Campground.
---
Every Wednesday from June 13-August 29, 2018
Lawn Chair Luminata
Heritage Park; along Barrie's Waterfront
This summer series brings a diverse range of arts and entertainment to Barrie's beautiful waterfront and downtown.
---
June 6-17, 2019
BARRIE JAZZ BLUES FESTIVAL
Various Venues throughout Barrie & Simcoe County
www.barriejazzbluesfest.com
Shake off cabin fever at the annual February Blues Festival featuring Blues and Jazz music performed by some of Canada's most brilliant artists.
---
June 22-23 2019
Strawberry Festival
Barrie Hill Farms, 2935 BARRIE HILL ROAD, BARRIE
www.barriehillfarms.com
Pick your own Fields open 8am-5pm
Market open 8am-5pm
BBQ Hot Dogs and Strawberry Shortcake. Our Famous Frozen Yogurt. Eric Kidd performs live from 10:00 am til 2:00 pm on Festival Weekend and on Canada Day. He plays more Canadian content than allowed by law!
---
June 29 – July 1, 2019
Promenade Days & Canada Day Festivities
Downtown Barrie – Dunlop Street East & West
Show Times: 10am – 7pm (Street Market)
Admission: Free
Come experience the longest running event in Downtown Barrie. First held in 1974, Promenade Days has become a summer tradition for locals and tourists alike. Barrie's largest street festival features live entertainment, midway, street performers & market, patios, food, and fun. Downtown Barrie's Promenade and Canada Day celebration offers a street-wide, pop-up shopping experience, rides and amusements, live music and entertainment, fireworks and much more!
July 5 – 6, 2019
Mariposa Folk Festival
Downtown Stage, Downtown Orillia
www.mariposafolk.com
Orillia's largest festival is once again featuring Mariposa Folk Festival's Showcase Winners on the FREE Downtown Stage! Come check out Showcase winning acts and get into the Mariposa Folk spirit in Downtown Orillia!
---
July 5-7, 2019
Craft Beer & BBQ Festival
Heritage Park; along Barrie's Waterfront
Downtown Barrie Association scoured the province to bring you the best of the best in craft breweries including a few from our own backyard. Come down and sample their wares and taste the best that craft beer has to offer. You won't be disappointed! Once you've tried all there is to try at the festival, you're not done yet. Set yourself loose on the downtown and try all of the great local food and beers our downtown establishments and patios have to offer.
---
July 19-21, 2019
ANNUAL ORILLIA SCOTTISH FESTIVAL
Couchiching Beach Park
www.scottishfestival.ca
A celebration of Scottish culture & heritage! Ceilidh at Legion Friday & Sunday; parade through downtown to waterfront, pipe & drum competitions, entertainment & vendors at Couchiching Beach Park Saturday.
---
July 27, 2019 | 9:00 am – 6:00 pm
Downtown Orillia's Summer Block Party
Downtown Orillia
A downtown summer street festival like no other! Showcasing a fusion of art, fun interactive activities, music, food, kid zones, sizzling sales & giveaways.
---
July 27 – 28, 2019 | 8:00 am – 3:00 pm
17TH ANNUAL BLUEBERRY PANCAKE FESTIVAL
Barrie Hill Farms, 2935 BARRIE HILL ROAD, BARRIE
www.barriehillfarms.com
Barrie Hill Farms 16th Annual Blueberry Pancake Festival – all proceeds donated to Hearts & Minds clinical priorities at Royal Victoria Regional Health Centre – supporting Advanced Cardiac Care and Child and Youth Mental Health Services. All proceeds to Hospice Simcoe.
August 2-5, 2019
ANNUAL KEMPENFEST
Barrie's Waterfront Parks
www.kempenfest.com
One of the largest outdoor arts and crafts festivals featuring over 300 artisans, antique show, food, children's activities, and amazing live entertainment on three stages.
---
August 8 – 11, 2019
BOOTS & HEARTS COUNTRY MUSIC FESTIVAL
Burl's Creek Event Grounds
bootsandhearts.com
Canada's largest country music & camping festival! Over 30 performers, from global superstars to emerging artists, including Florida Georgia Line, Alan Jackson, Thomas Rhett & Dallas Smith! Great food, merchant & craft vendors!
---
August 9-11, 2019
ORILLIA WATERFRONT FESTIVAL
Port of Orillia & waterfront parks, Centennial Drive, Lake Couchiching
A weekend of fun activities and entertainment at the beautiful Port of Orillia and waterfront parks, Lake Couchiching, Orillia, Ontario, Canada! The Orillia Waterfront Festival in-water boat show features new, dealer trade, select brokerage and private owner boats, and includes everything from kayaks to cruisers! Over 100 land vendors and exhibitors offer boating accessories, water sports equipment, cottage, and outdoor products, great summer fashions, good food & more! Art exhibits, dog agility trials, Dock Dogs Diving Contest, exciting water ski shows throughout the weekend, and hilarious Cardboard Boat Race Sunday at Noon!
An average of 20,000 people attend the festival each year!
Friday: Noon – 8:00 pm
Saturday: 10:00 am – 7:00 pm
Sunday: 10:00 am – 6:00 pm
---
August 23-25, 2019
ANNUAL CHIPPEWAS OF RAMA FIRST NATION POW WOW
John Snake Memorial Multipurpose Grounds, 6030 Rama Road, Chippewas of Rama First Nation
www.crazycrow.com/site/event/rama-powwow
A celebration of culture, heritage & friendship, bringing together Turtle Island's finest Pow Wow singers, dancers & drummers! Traditional foods, arts, crafts & more. Everyone welcome!
---
August 24, 2019
BARRIE DRAGON BOAT FESTIVAL
Kempenfelt Bay, Downtown Barrie
barriedragonboatfestival.ca
Enjoy dragon boat racing, cultural and commercial exhibits, participate in children's activities and much more.
September 5-8, 2019
Barrie Automotive Flea Market
Burl's Creek Event Grounds, Oro-Medonte
www.thebafm.com
Canada's Finest Automotive Flea Market offers over 2500 vending spaces and 1000 camping sites. There is everything from collectibles & classic cars to those hard to find car parts. If you can't find it here, you can't find it anywhere. It's a Car Lover's Dream – Car Sales Corral, Sunday Auto Auction, Show & Shine and thousands of vendors. You won't believe your eyes. Bring your friends & family and stay in our convenient Campground.
October 18-27, 2019
Barrie Film Festival
Uptown Theatre, 55 Dunlop Street West
www.barriefilmfestival.ca
A ten-day film lover's delight! Bringing people together to experience extraordinary films from Canada and around the world. Includes guest speakers, parties, short film competition and director's brunch. BFF – your best friend for film!
---
October 2019
ORILLIA JAZZ FESTIVAL
Times vary by location
www.orilliajazzfestival.com
Now in its 28th year, the Orillia Jazz Festival occurs in various host locations in the downtown and all over Orillia! Come discover a new found love or reignite a passion for all things jazz!