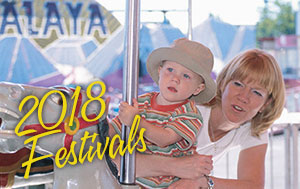 The City of Barrie and Orillia continues to be one of Canada's fastest growing and dynamic cities. Its location in proximity to the great outdoors and recreational activities promotes an active and healthy lifestyle. The following festivals are presented at various location in Barrie and Orillia, Ontario.
JAN.
FEB.
MAR.
APR.
MAY
JUN.
JUL.
AUG.
January 19 – February 4, 2018
BARRIELICIOUS FESTIVAL
Various Barrie Restaurants
www.barrielicious.com
The intent of the festival is to allow Barrie residents to try a diversity of culinary experiences in the downtown area. A prix fixe menu at $15 – $25 per person will be offered at each location. Menu will include an appetizer or soup or salad with an entree and dessert.
What to expect:
Prix fixe full course meals – ranging from $15 – $30
A culinary journey – indulge in multicultural delicacies
New menus – exceptional festival menus with delectable results
Meet established and aspiring chefs
Support your local restaurants, enjoy a great meal with friends and family, and celebrate good food!
Three Course Dinner Menu is to be chosen from a select menu at each restaurant. Price does not include applicable taxes, alcohol or additional menu items. Please contact the restaurants in advance for reservations (Visit www.barrielicious.com for the participating restaurant.) Ask about select menu.
February 1 – 4, 2018
FEBRUARY BLUES FESTIVAL
Various Venues throughout Barrie & Simcoe County
www.barriejazzbluesfest.com
Shake off cabin fever at the annual February Blues Festival featuring Blues and Jazz music performed by some of Canada's most brilliant artists.
---
February 3 – 4, 2018
WINTERFEST 2018
Barrie Waterfront, Heritage Park & Memorial Square
Named one of the Top 100 Festivals in Ontario, the City of Barrie's Winterfest is a great way to celebrate the winter season with adventures that the whole family will enjoy. Grab your mittens and join us Saturday, February 3rd and Sunday, February 4th from 10:00am to 5:00pm. Check out the polar bear swim, horse-drawn wagon rides, dogsled rides, lumberjack show, giant snow slide, ice maze, and much more. The Festival of Ice features 300 pound blocks of ice carved into spectacular, themed sculptures. Join in the festivities at one of the many indoor venues too, including the February Blues Festival, Reel Stories mini film festival, tours and family fun at the MacLarenArtCentre, skating at Barrie's arenas during select times, and storytime and crafts at the Barrie Public Library. The community comes alive with winter fun and celebration. Don't miss these fun activities and so much more throughout the Winterfest weekend!
---
February 17, 2018
12TH ANNUAL ICE FISHING TOURNAMENT
Kempenfelt Bay – Southshore Centre, 205 Lakeshore Drive
www.icefishingbarrie.ca
The Simcoe County Home Builders' Association will be hosting the 12th annual Ice Fishing Tournament on Kempenfelt Bay on Saturday February 17, 2018. This tournament to date has raised over $400,000 for local charities and community groups.
The tournament is held over Family Day long weekend, and no fishing license is required to participate. We encourage families, kids and fisherman of all skill levels to attend. There is $50,000 in prizes and cash given away each year! Example prizes include a snowmobile, a boat and trailer and an ATV.
Registration can be done online at www.icefishingbarrie.ca or for questions please call 705-431-5030.
March 1 – 4, 2018
2018 ONTARIO WINTER GAMES
Various location
www.orillia2018.ca/en/index.aspx
For the first time, Orillia is hosting the Ontario Winter Games and will welcome athletes, coaches, managers and officials from across the province for this four-day event. The majority of the Games will be held in Orillia; however, proud neighbouring local-area municipalities such as Oro-Medonte, Chippewas of Rama First Nation, Gravenhurst, Midland, Bracebridge and Huntsville will also participate in hosting events. Sports involved within the Games are being finalized; however it is expected the Games will feature approximately 25 different sport competitions including hockey, ski and snowboard, curling, volleyball, sledge hockey, martial arts, wrestling and figure skating.
---
March 2 – 3, 2018
WINTER CARNIVAL 2018
Port of Orillia & Couchiching Beach Park
orilliawintercarnival.ca
The Orillia Winter Carnival has been around for many, many years and has evolved with time. No one really knows for sure how long this event has been running, but we have seen photographic proof from as far back as the early 1950's! Cool family fun for all ages! Shivers ice castle, snow sculptures, helicopter rides, horse & sleigh rides, petting zoo, Leacock kids tent, youth & adult dances, Sunday polar bear dip & more!
---
March 31, 2018 @ 9:30 am – 12:00 pm
DOWNTOWN ORILLIA'S GREAT EASTER EGG HUNT
Downtown Orillia
Bring your kids downtown in search of colourful Easter eggs hidden throughout Downtown Orillia! Trade them for chocolates donated by Apple Annie's at the egg exchange at the historic Opera House.
April 20, 2018 @ 3:30 pm – 5:00 pm
EARTH DAY FESTIVITIES
Downtown Orillia
Orillia residents will be cleaning up & beautifying our downtown on Earth Day! Come help out and clean up your downtown & stay for the Earth Day festivities happening throughout the downtown core.
---
April 20 – 21, 2018
ROOTS NORTH MUSIC FESTIVAL
Downtown Orillia
www.rootsnorthmusic.ca
Roots North Music Festival brings together amazing performers for a weekend of great live music in Downtown Orillia. Historic Downtown Orillia, Ontario, Canada serves as the backdrop for the music festival. Our headline shows will take place at the beautifully restored St. Pauls Centre at 62 Peter Street South.
---
April 21 – May 12, 2018
38TH ANNUAL ORILLIA PERCH FESTIVAL
Lakes Simcoe and Couchiching, Orillia
One of Canada's Largest Registered Fishing Derbies! Over Sixty Tagged Perch worth $500 Each! Plus … Bonus Perch & Thousands of Dollars in Daily, Weekly and Grand Prize Draws! JUST FISH TO WIN !!!
Opening Ceremonies
Friday, April 21 – 7:00 pm
ODAS Park, Fairgrounds Road
Special OPP Kids' Day
Saturday, May 06
11:00 am to 1:00 pm
Tudhope Park, Atherley Road
Closing Ceremonies
Saturday, May 13 – 7:00 pm
ODAS Park, Fairgrounds Road
May 25 – 26, 2018
14TH ANNUAL BARRIE WATERFRONT FESTIVAL
Dunlop St., Memorial Square & Heritage Park, Barrie
barriewaterfront.ca
Annual Barrie Waterfront Festival spring line-up will present live bands from a variety of genres. For your added enjoyment, free outdoor entertainment will be brought to the table: street buskers, a midway with rides, face painting, street vendors, fresh food, treats and contests.
Don't miss this weekend with your family; eat, drink and have fun while sharing in Barrie's terrific community spirit.
June 2, 2018
CELEBRATE BARRIE
Centennial Park, 65 Lakeshore Drive, Barrie, ON
www.barrie.ca/Culture/Festivals/Pages/CelebrateBarrie.aspx
Join in the fun and celebration at Celebrate Barrie! The 13th annual celebration of our community will be held along the beautiful shores of Kempenfelt Bay on Saturday, June 2nd from 10:00am to 5:00pm. This free festival features fun for the whole family including inflatables and rides, animal shows, local entertainment on two stages, historical reenactments, and over 50 community groups providing hands-on activities.
July 6 – 8, 2018
MARIPOSA FOLK FESTIVAL
Tudhope Park, Orillia
www.mariposafolk.com
North America's longest running folk festival features an incredible weekend of music! Emporium, artisan's village, folkplay area for kids, food, beer tent and more. Tudhope Park, on the shores of Lake Couchiching, 705-329-2333.
July 28 – 29, 2018 @ 8:00 am – 3:00 pm
16TH ANNUAL BLUEBERRY PANCAKE FESTIVAL
Barrie Hill Farms, 2935 BARRIE HILL ROAD, BARRI
www.barriehillfarms.com
Barrie Hill Farms 16th Annual Blueberry Pancake Festival – all proceeds donated to Hearts & Minds clinical priorities at Royal Victoria Regional Health Centre – supporting Advanced Cardiac Care and Child and Youth Mental Health Services
Pick your own Fields open 8am-4pm
Market open Saturday 8am-5pm and Sunday 8am-8pm
Together with Barrie Knights of Columbus Council 1626, the 2011 event raised almost $5,000 for a worthy cause. Let's raise even more this year!!!
August 3 – 6, 2018
ANNUAL KEMPENFEST
Barrie's Waterfront Parks
www.kempenfest.com
One of the largest outdoor arts and crafts festivals featuring over 300 artisans, antique show, food, children's activities, and amazing live entertainment on three stages.
---
August 9 – 12, 2018
BOOTS & HEARTS COUNTRY MUSIC FESTIVAL
Burl's Creek Event Grounds
bootsandhearts.com
Canada's largest country music & camping festival! Over 30 performers, from global superstars to emerging artists, including Florida Georgia Line, Alan Jackson, Thomas Rhett & Dallas Smith! Great food, merchant & craft vendors!
---
August 25, 2018
BARRIE DRAGON BOAT FESTIVAL
Kempenfelt Bay, Downtown Barrie
barriedragonboatfestival.ca
Enjoy dragon boat racing, cultural and commercial exhibits, participate in children's activities and much more.