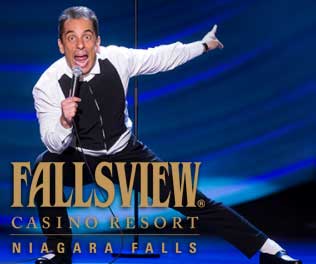 Distinguished by The New York Times as a comic with his "own kind of panache," the witheringly sarcastic Sebastian Maniscalco brings his signature Why Would You Do That? stand-up special to the Fallsview Casino stage this September.
After more than a dozen sold-out performances in New York's comedy circuit this year, the Chicago native turned Los Angeles resident tapped Manhattan, N.Y. as the backdrop for his newest comedy special, Sebastian Maniscalco: Why Would You Do That? As star and executive producer, Maniscalco performs his exasperated take on modern behaviour and etiquette with his saying-what-we're-all-thinking brand of hilarity. The material from his tours is inspired by his astonishment with modern society's unspoken rules and juxtaposition of current culture against his upbringing in an Italian-immigrant family.
In his stand-up, Maniscalco has taken on everything from selfies, or "lonelies" as he calls them, to online restaurant reviews ("Who's got the time to write an 18-page essay on asparagus?") and airport check-ins. Still sporting his Chicago accent, Maniscalco began paying his comedy dues by night in the bars and comedy clubs of Los Angeles. Catching his big break as one of the four featured comedians in the critically acclaimed film Vince Vaughn's Wild West Comedy Show, and being named the 2016 Just For Laughs Stand-Up Comedian of the Year, Maniscalco has garnered international stardom
"From big-name headliners like Sebastian Maniscalco and Air Supply to fan-favourite productions including Return to Grace, La Grande Musica Italiana and Songwriters, our September lineup builds on a jam-packed list of summer performances that includes stars like Adam Sandler and Sammy Hagar in June, Rachel Platten and The O'Jays in July, and Vanessa Williams in August. Fallsview Casino Resort is the place to be for entertainment this year,"

Cathy Price, Vice President of Marketing for Niagara Casinos.
Sebastian Maniscalco
September 21: Showtime 8:30 p.m.
September 22: Showtime 9:00 p.m.
Tickets start at $90