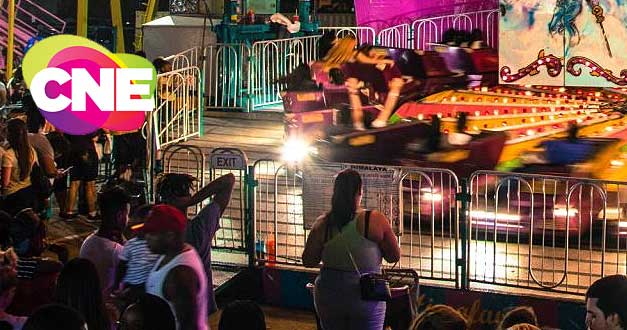 August 18 – September 4, 2017
Exhibition Place
www.theex.com
The Canadian National Exhibition (CNE) is Canada's largest community event and one of the top 5 agricultural fairs in North America. Founded in 1879 the CNE is affectionately embraced as an end-of-summer ritual by more than 1.5 million annual visitors. Find out more about the CNE and its history at their official website, www.theex.com.
The 139th Canadian National Exhibition marks the end of another great summer in Toronto. The excitement and memories will happen from August 18th to September 4th. With new attractions and returning favourites the 2017 CNE is sure to be another spectacular year of fun for everyone!
2017 CNE HIGHLIGHTS:
NEW – CNE Gaming Garage:
August 25-27, 2017
Enecare Centre, Hall F
New this year, the world of gaming will be coming to the CNE for three days only! The CNE Gaming Garage will be the place to play and watch eSports and Pinball! Compete alongside players of all skill levels for the chance to win a cash prize. The Gaming Garage space will also include Video Game Developers and Exhibitors, a Tabletop Gaming Library for you and your friends to play your favourite board game, and a Chess Grandmaster Challenge, where the audience can play against one of chess' greatest minds. Registration for these events is free.
New-East Coast Kitchen Party
August 19-20, 2017
Princes' Boulevard
Fish, fritters, fiddles, & fun, Opening Weekend gets off to a "screeching" start with the CNE's first-ever East Coast Kitchen Party. Enjoy delicious East Coast cuisine from your Favourite Food Trucks and Craft Beer Breweries, East Coast wine and Newfoundland Screech! The event also features toe tapping East Coast Music, Newfoundland Screeching In and Oyster Shucking.
NEW – Aerial Acrobatic & Ice Skating Show:
August 18-September 4, 2017
Ricoh Coliseum
The fan favourite acrobatics and ice skating show returns to the CNE with an all new theme. Helping to celebrate Canada 150, high profile Canadian soloists will perform with Elvis Stojko headlining.
68th Canadian International Air Show:
September 2-4, 2017
CNE Grounds
Head to the CNE on Labour Day weekend for a show like never before! The 68th Canadian International Air Show will be soaring over Lake Ontario for another year of thrilling loops and turns in this exciting demonstration of awe-inspiring feats!
NEW -CNE Innovation Garage:
August 18-20, 2017
Enercare Centre, Hall F
Returning for another year of innovation and inspiration after its spectacular debut at the 2016 CNE, the CNE Innovation Garage will be better than before! The Emerging Innovators Pitch Competition will return with the newest young and creative innovators showcasing their work. Everything in innovation from consumer products to coding workshops and keynote talks will be featured at the Garage, including the NEW Hackathon!
Celebrity Chef Stage:
Various Dates
Home Pavilion, Enercare Centre
Watch celebrity chefs demonstrate their culinary expertise at the Celebrity Chef Stage! See daily demonstrations of the best recipes and best techniques at the Home Pavilion, including daily preserving tips by cookbook author Yvonne Tremblay. Headliners include, Chopped Canada judge, Michael Smith, Vikram Vij from Top Chef Canada, grilling master Robert L. Rainford, nutrition expert Dr. Mary Scourboutakos and many more!
Exhibit – 150 Years of Keeping Toronto Safe from Fire:
August 18-September 4, 2017
CNE Fire Station
Take a historic walk through the years at the CNE Fire Station and see how Toronto's firefighters have kept Toronto safe for 150 years with a photograph display. The exhibit also includes Fire Service Day and parade with antique firefighting apparatus and the Bucket Brigade Junior Challenge.
NEW – CanaDogs! President's Choice SuperDogs Show:
August 18-September 4, 2017
Enercare Centre, Hall D
Celebrate Canada 150 with some furry friends at the President's Choice SuperDogs Show! New this year, SuperDogs celebrates Canada's 150th birthday with an all-Canadian production: CanaDogs! Laugh with and enjoy the canine versions of Dragon's Den, the Dog House, Heritage Minutes and an NHL themes race! Cheer on these fluffy friends as they jump, run, weave and dance their way through Canada! With a special guest appearance you don't want to miss this event!
Kids' World:
August 18-September 4, 2017
West End, near Dufferin Gate
Kids' World offers a huge variety of kid friendly activities that are fun and exciting! With a kiddie midway, live entertainment, Pizza Nova Pizza Making, an Art Studio on KidStreet and so much more, Kids' World is the perfect kid getaway!
Bandshell Concert Series:
August 18-September 3, 2017
Bandshell Park
Jam out to concerts and perforamcnes spanning all musical genres. Catching a concert at Bandshell Park is the perfect way to end off a day at the CNE! Headlining acts include Burton Cummings & Band, Sam Roberts Band, Kiefer Sutherland, Dear Rouge, Virginia to Vegas, Shawn Hook and many more!
Also check out great country acts at the Northern Comfort Saloon.
Parades:
Check out the parades happening throughout the CNE for amazing floats, beautiful costumes and colourful displays, including the daily Mardi Gras Parade, Warriors' Day Parade (August 19) and the Labour Day Parade (September 4).
NEW – Food Truck Frenzy & Craft Beer Fest:
August 25-27, 2017
Princes' Boulevard
The Food Truck Frenzy and Craft Beer Fest are back for the 2017 CNE! Enjoy the tastiest foods from Toronto's best food trucks with 25 delicious options to choose from including three new trucks this year! Chow down on some Beavertails while sipping on the finest craft beer from 12 master brewers!
Ribfest:
August 18-September 4, 2017
Bandshell Park
The ever popular Ribfest returns to Bandshell park for another year of succulent, finger-licking ribs! Try a multitude of flavours and recipes as rib masters compete to win "best rib recipe"!
Rising Star Talent Competition:
August 18-September 3, 2017
International Stage, Enercare Centre
See the best up and coming, young talent at the Rising Star Talent Competition. Young artist ages 6-21 compete for the chance to be the CNE's Rising Star!
Walks & Talks:
Go on two interesting and fantastic walks at the 2017 CNE. The Heritage Walking Tour gives attendees a history of the CNE from 1879 to present day, celebrating its historic moments and highlighting key evets and buildings. The CNE Ghost Walk gives CNE guests a look into the spooky history of the fair.