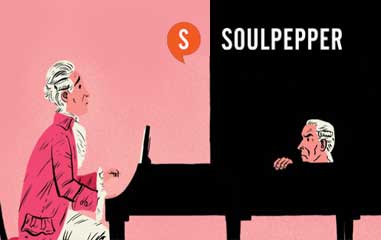 13 Plays Including Two World Premieres, A National Premiere, New Concerts and More
Soulpepper's 2017-2018 season begins this September with a new look at Samuel Beckett's Waiting for Godot, directed by Daniel Brooks with Oliver Dennis and Soulpepper Founding Member Diego Matamoros, running alongside the World Premiere of Picture This – a comedy of epic proportions – by Morris Panych and Brenda Robins.
In October, Soulpepper presents Cliff Cardinal's Dora Award-winning solo show Huff. Also this fall, Soulpepper presents the first of two plays by the late Pulitzer Prize–winning American playwright Edward Albee: The Goat or, Who is Sylvia? directed by Associate Artistic Director Alan Dilworth runs this October, with Albee's A Delicate Balance opening next January, directed by Soulpepper Founding Member Diana Leblanc.
December marks the return of the Soulpepper Family Festival, a family-friendly holiday mix of theatre and music. This year's lineup at the Young Centre includes Michael Shamata's beloved adaptation of Charles Dicken's A Christmas Carol, a partner presentation with Toronto's Bad Hats Theatre and their production of Peter Pan directed by Severn Thompson, and, at the Jane Mallett Theatre at the St. Lawrence Centre for the Arts, a limited encore presentation of A Very Soulpepper Christmas in concert.
Programming in January of 2018 begins with the Tony Award-winning drama Amadeus by Peter Schaffer directed by Albert Schultz.
In March, Alan Dilworth returns to direct the Canadian Premiere of Idomeneus by acclaimed German playwright Roland Schimmelpfennig, translated by David Tushingham. Idomeneus opens alongside the World Premiere of Animal Farm adapted by Soulpepper Academy graduate Anthony MacMahon, directed by Resident Artist Ravi Jain, and commissioned as part of Project imagiNation, Soulpepper's national commissioning project.
On stage in May through June 2018 is a trio of plays: Ma Rainey's Black Bottom by August Wilson directed by Soulpepper Academy Member Mumbi Tindyebwa Otu; Innocence Lost: A Play About Steven Truscott by Beverley Cooper directed by Jackie Maxwell; and A Chorus of Disapproval by Alan Acykbourn directed by Albert Schultz.
Music programming at Soulpepper in 2017-2018 features new theatrical concerts including: The Secret Chord: a Leonard Cohen Experience; Riverboat Coffee House: The Yorkville Scene; Prohibition, a Concert; and A Moveable Feast: Paris in the '20s.
For the first time, Soulpepper will be offering American Sign Language (ASL) interpreted performances for selected dates of Idomeneus on March 20 and 23, 2018, and Innocence Lost: A Play About Steven Truscott on June 6 and 9, 2018. See the season brochure for more details.
Subscriptions to 2017-2018 programming are on sale as of May 30 at 1 p.m. for current subscribers. Public subscription sales begin on June 12. Single tickets for the unveiled 2017-2018 season go on sale to the public on June 20, 2017.
Soulpepper's 2016-2017 season concludes this summer, in Toronto, with productions of Vern Thiessen's Vimy and Billy Bishop Goes to War written and composed by John MacLachlan Gray with Eric Peterson, while VideoCabaret spectacularly conjures the era of Confederation in four tragicomic one-act plays, presented in two parts, with Confederation & Riel and Scandal & Rebellion. From July 1 to 29, Soulpepper will also be on stage in Manhattan making its U.S. debut with a full festival of programming at The Pershing Square Signature Center (soulpepper.org). Soulpepper's first original podcast series, The Complete 150 created and written by Jason Sherman, continues with new parts until July 1, and the second season of Kim's Convenience the TV series, co-produced by Soulpepper, airs on CBC this fall.
For details on all of Soulpepper's programming, visit soulpepper.ca or call the Young Centre Box Office at 416.866.8666.
Soulpepper Programming: September 2017 to June 2018
Soulpepper Music: 2017-2018 Concerts
Each original Soulpepper Concert revolves around a time, place, or artist crafted by a team of incomparable performers. The Concert Series is led by Slaight Family Director of Music Mike Ross. Check the season calendar for dates and times.
The Secret Chord: a Leonard Cohen Experience
In this concert experience Leonard Cohen's extraordinary life and work is remembered and celebrated by a company of remarkable artists.
August 17-22, 2017
Riverboat Coffee House: The Yorkville Scene
Opened in 1964 in the basement of a Victorian row house, the Riverboat Coffee House was a launching pad for Canadian singer-songwriters like Gordon Lightfoot, Ian and Sylvia, Murray McLauchlan, Joni Mitchell, and Neil Young. Mike Ross will music-direct a line-up of multi-disciplinary artists as they celebrate the stories and songs that made Yorkville the place to be in the free loving sixties.
October 6-9, 2017
A Very Soulpepper Christmas
Guests of all ages are invited to a family concert celebrating the sounds of the season from around the globe. Featuring Mike Ross leading an all-star lineup of Toronto's best musicians.
Recommended for ages 6+
Playing at the St. Lawrence Centre for the Arts in the Jane Mallett Theatre
December 15-17, 2017
Prohibition, the Concert
Gangsters, flappers, booze and jazz – prohibition didn't stop the party, it only forced it underground where it thrived. Writer/narrator Albert Schultz and Music Director Mike Ross invite you to the Distillery District for a night of stories and songs from the "dry" days of the Roaring Twenties.
February 9-14, 2018
A Moveable Feast: Paris in the '20s
In the decade following the first World War the French economy boomed, and Paris re-established itself as a capital of art, music, literature and sophisticated Bacchanalia…Hemingway, Joyce, Picasso, Fitzgerald, and Gertrude Stein were all there… as was Josephine Baker, Igor Stravinsky, Man Ray and Kiki of Montparnasse. Bienvenue.
March 30-April 6, 2018
Located in its multi-venue home, the Young Centre for the Performing Arts in Toronto's Distillery Historic District, Soulpepper is Toronto's largest not-for-profit theatre company. Founded and guided by artists, under the leadership of Artistic Director Albert Schultz and Executive Director Leslie Lester, Soulpepper has an integrated mission which includes: industry-leading youth outreach initiatives; the Soulpepper Academy, Canada's only multi-year paid professional training program for theatre artists of all disciplines; and a year-round diverse repertory season which is grounded in the classics and committed to the creation of new works, new forms, and innovative practices. Tickets to Soulpepper productions are available by calling the Young Centre Box Office at 416.866.8666 or by visiting soulpepper.ca. Soulpepper's New York programming can also be directly accessed via soulpepper.org.
Tickets for Soulpepper 2017-2018 productions range from $35 to $95 CDN. Tickets for Soulpepper Concerts & Cabarets start at $25. $20 tickets for Soulpepper productions are available for arts workers and deaf community members. Ticket deals for under-30 year-olds are available at soulpepper.ca/stageplay. StagePlay is sponsored by TD Bank Group. $25 Rush tickets and $5 Youth Rush tickets are subject to availability. Ticket prices include a Young Centre facility fee, service charge and HST. Pricing is subject to change.