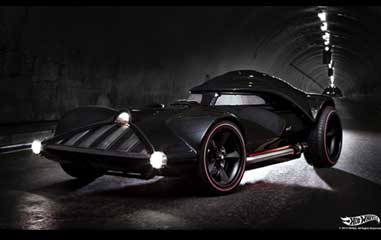 February 16-25, 2018
Metro Toronto Convention Centre
Celebration to feature Hot Wheels super track, six life-size Hot Wheels cars and a Collector's Zone featuring more than 500 die-cast Hot Wheels models
The number one selling toy in the world is joining with the Canadian International AutoShow in presenting an explosion of activities to commemorate its 50th anniversary.

Developed by toy maker Mattel in 1968, Hot Wheels is one of the most iconic toys of all time making childhood — and adulthood — awesome for everyone.

The 50th anniversary of Hot Wheels will be a feature attraction of the 2018 AutoShow, being held February 16-25 at the downtown Metro Toronto Convention Centre. While more than 1,000 conventionally powered cars and light trucks will be on display, the focus of this year's show will be The New Movement. Manufacturers of 14 all-electric and hybrid vehicles will not only show them off but make them available for test drives.

There's no doubt, however, that along with Art & the Automobile, Auto Exotica and Tuner Battlegrounds – AutoShow edition, the Hot Wheels anniversary will be a major attraction.

"Since 1968, we've made six billion cars that have contributed to the happiness of children and adults everywhere, and no doubt inspired the imaginations of today's global automotive designers," said Akram Sharkawy, Brand Communication Marketing Manager at Mattel, Inc. "It's almost impossible to have grown up without Hot Wheels, and through our 50th anniversary celebrations, we're aiming to fuel a new generation of fans and ignite, nurture, and celebrate their challenger spirit."

The activations include:
A Hot Wheels super track built at the AutoShow.
The opportunity to build your own super tracks in the Hot Wheels Play Zone, where Hot Wheels products will also be available for sale.
A dedicated display area that will feature Hot Wheels collectors and their treasures.
The opportunity to get up-close to six life-size Hot Wheels cars, including the Darth Vader car (pictured above) and the 1967 Chevrolet Camaro RS.
HOW YOU CAN WIN BY CELEBRATING #HOTWHEELS50

Visitors to the AutoShow who upload images to social media tagging #HotWheels50 and #ChallengeAccepted will receive a free die-cast vehicle by visiting one of the Brand Ambassadors at the Hot Wheels activation on Level 700 of the South Building.

To ignite its monumental anniversary year, Hot Wheels is also inviting the public to enter a design contest where they have the chance to win a Hot Wheels prize pack and to have their design produced as a future die-cast car by Hot Wheels. Those interested can enter the Hot Wheels Design Challenge at hotwheelschallenge.ca. Stay tuned for contest details.

Tickets are available now at the AutoShow's website, www.autoshow.ca. Early Bird tickets can be purchased for $18 – a saving of 25 per cent from the regular price of $24 – until Jan. 15, 2018. After that, tickets will be available online at a 10 per cent saving until the show opens.

The Canadian International AutoShow dates and hours are:
February 16, 2018: 12:00 p.m. – 10:00 p.m.
February 17-24, 2018: 10:30 a.m. – 10:00 p.m.
February 25, 2018: 10:30 a.m. – 6:00 p.m.