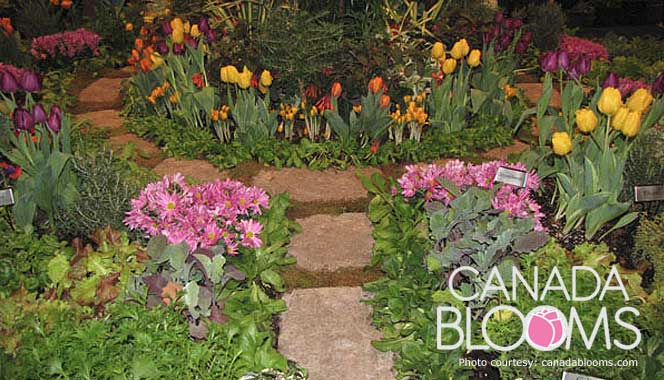 co-locating with the
NATIONAL HOME SHOW
March 9 -18, 2018
Enercare Centre
Canada Blooms creates inspiring and engaging fantasy feature gardens that bring people back to the festival year after year. Some of the world's top designers, architects and garden builders compete to win coveted awards at the festival. The Toronto Flower Show at Canada Blooms brings the finest amateur floral designers together for horticultural and design competitions and display. This show is a verdant venue for events and offers education opportunities led by the leading gardening experts.
MARCH 9: 10:00am to 9:00pm
MARCH 10: 10:00am to 9:00pm – Unilock Day
MARCH 11: 10:00am to 6:00pm
MARCH 12: 10:00am to 8:00pm – Family Day
MARCH 13: 10:00am to 8:00pm – Family Day
MARCH 14: 10:00am to 8:00pm
MARCH 15: 10:00am to 9:00pm
MARCH 16: 10:00am to 9:00pm
MARCH 17: 10:00am to 9:00pm
MARCH 18: 10:00am to 5:00pm
Highlights include:
Over 25 Gardens – Stunning gardens created by Canada's top garden designers, architects and builders.
Small Space Gardens: Balcony Gardens – 6 balcony gardens offer you an opportunity to see what can be done in a 6′ x 10′ space. Oaks Landscape Product's Do Up The Doorstep Gardens shows you how innovative these garden builders can be in a small space.
Highway of Heroes Tribute Garden designed and built by Genoscape Inc. paying tribute to the soldiers who have given their lives for our freedom. Highway of Heroes Tribute plans to plant 1 tree for every soldier lost along the Highway of Heroes.
Visit the Tetley Tea Garden and leave with a sample of their new ice tea selection.
Floral Alley displays innovative designs by local Floral Artists
VOTE FOR YOUR FAVOURITE GARDEN AND FLORAL DISPLAY – for a chance to win a trip to beautiful Victoria BC and a special tea at Butchart Gardens. The trip is courtesy of the Toronto Star, The Royal Scot Hotel and Suites, Royal Canadian Museum and CVS Tours. Ballots can be found at the Toronto Star booth, the Wine Garden, Info Booths and the Festival Office.
Ontario Growers Grove – Discover Ontario Grown trees and plants and why you should be buying Ontario Grown products.
Flowers, plants and more – Jill Jensen Botanicals and The Toronto Botanical Garden have displays at this year's festival.
Enjoy gardening seminars and floral advice from industry professionals on the Unilock Celebrity Stage and Garden Solutions Stage presented by Harrowsmith featuring the Master Gardeners Speaker Series.
Gardening Experience Workshops – you're invited to drop by and learn all about soil and seed planting. Plant your own seeds to take home and watch them grow. The Gardening Experience is also home to a number of workshops and demonstrations throughout the 10 days of the festival, including the Li'l Sprouts series presented by Master Gardeners of Ontario. Demonstrations are included with your admission. Make and Take workshops have an additional fee.
Ontario Flower Growers Flower Market – Over 1500 sq. ft. of flowers and plants from Ontario's top growers are located in one area. Come see why you should buy local.
Colio Wine Lounge – It is a Canada Blooms tradition to drop by the Wine Garden for a refreshing glass of wine, listen to the various musicians while you enjoy the festival. It is a time honoured tradition.
Ask The Experts – Have a garden or horticulture question? Drop by the Master Gardeners of Ontario Advice Clinic, or bring your plans, pictures and dilemmas to the skilled horticulturalists at the One on One Garden Advice Clinic booth and they will have you walking away with a number of solutions. Humber Nurseries will have industry professionals at their Marketplace Booth who can help you with any number of projects.