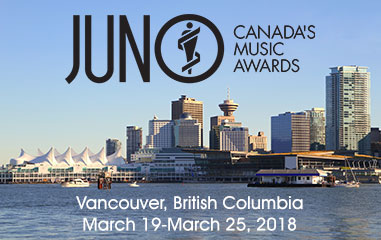 The JUNO Awards are heading out west as The Canadian Academy of Recording Arts and Sciences (CARAS) announced that Vancouver will host the 2018 JUNO Awards and the week long JUNO Week celebrations (March 19-March 25, 2018).
The 47th annual JUNO Awards will be broadcast live from the Rogers Arena, home of the Vancouver Canucks, on Sunday March 25, 2018. This will be the fourth time that Vancouver will host Canada's Music Awards ceremony; shows previously took place in 1991, 1998, and 2009.
"British Columbia has a longstanding tradition of producing some of Canada's most accomplished artists and that continues to this day," said Allan Reid, President & CEO, CARAS/The JUNO Awards and MusiCounts. "We are thrilled to be bringing the JUNOS back to Vancouver and the province of BC."
"British Columbia is one of Canada's leading centres for music. With over 80 independent record labels and over 120 sound recording studios, our music sector is as diverse and vibrant as our province," said Premier Christy Clark. "The JUNO Awards are an opportunity to welcome fans and artists from across the country, show support for Canada's thriving music scene – and have a great party."
"I'm thrilled that Vancouver will be hosting the 2018 JUNO Awards, and we have the opportunity to showcase and celebrate homegrown Canadian talent," says Mayor Gregor Robertson. "We love every opportunity to share Vancouver's thriving arts, culture and music scene and as Mayor of the 2018 JUNO Awards' host city, I can't wait for Vancouver to put on an incredible show and support our local music community."
About CARAS
The Canadian Academy of Recording Arts and Sciences/L'académie canadienne des arts et des sciences de l'enregistrement (CARAS) is a not-for-profit organization created to preserve and enhance the Canadian music industry and to contribute toward higher artistic and industry standards. The main focus of CARAS is the exploration and development of ongoing opportunities to showcase and promote Canadian artists and music through vehicles such as The JUNO Awards and other year-round initiatives. For more information on the 47th Annual JUNO Awards or The Canadian Academy of Recording Arts and Sciences (CARAS) please visit www.junoawards.ca.
Web Links:
Official JUNO Awards website: www.junoawards.ca
Social Media:
The JUNO Awards: @TheJUNOAwards