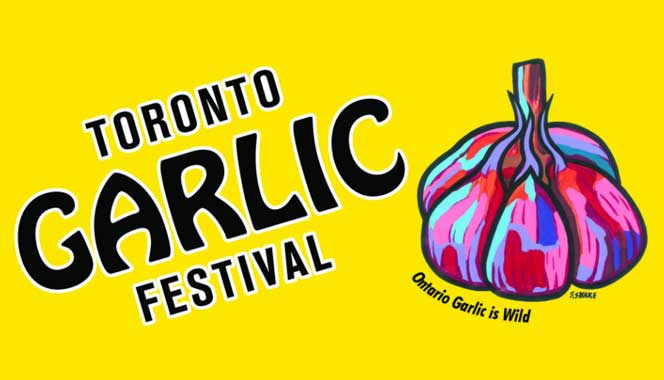 Sunday, September 17 from 9 am to 5 pm.
Artscape Wychwood Barns
601 Christie Street, Toronto
At 7th annual Toronto Garlic Festival (where above quoted Don Francks' CBC documentary Freedom Family will be screening), Whole Circle Farm steward Johann Kleinsasser echoed the same sentiment, not surprising considering the name of his farm. "Everything is energy and everything is related. We have cattle here on the farm who help the fertility of the farm and there are people out there that say the cattle are contributing to greenhouse gas because of the methane …that's one way of looking at it. The truth is, yes, cows give off methane gas but if you have a healthy soil life and diversity in the soil, it helps mitigate the effect of the methane. At this farm we do not look at anything individually, but the whole thing."
It is this fundamental respect for the land that is reflected upon during the four-hour field and barn tour slash festival launch slash media lunch al fresco (or a la fattoria – on the farm – if you will). Hosted in conjunction with one of this year's Toronto Garlic Festival vendors Taste Real Wellington County, Chef Ben Sachse from The Kitchen at Elora Brewing Co. worked his culinary magic with freshly harvested local food, starting with Ontario Garlic and Smoked Paprika Chicken Soup (with poached egg and Elora Bread Co sourdough). The highly instagrammable starter was followed by Garlic and Shallot Cheese Bake, with Smoked Chicken, and Fresh Green Salad with Pickled Garlic, Tomatillos, and Monforte Queso Fresca, followed by questions directed to festival founder McClusky about why he chose a farm setting to launch the Toronto Garlic Festival. "The impetus came from cooking in the garlic field for friends who came out to help weed and harvest the garlic", explains McClusky, who grows several strains of hardneck garlic not far from where the diners are now clucking, er tucking into a creamy delicious garlic ice cream with a side of shortbread. "While pulling scapes this past spring I would reach for a scape from a garlic plant, chop it and add it to an omelette on my portable stove – from field to frying pan to fork, it literally shows the connection of the food to the soil.
Discussion with the group of food and travel writers and photographers and food tourism marketers turned to the realities of eating in season when it comes to garlic, a 'head to tail' plant that provides green garlic, garlic scapes, black garlic and even wild garlic which incidentally was used by First Nations long before the Europeans brought garlic to North America. In continued efforts to encourage consumers to make the switch to buying Ontario garlic Toronto Garlic Festival programming includes talks on the importance of maintaining healthy soil, soil terroir and the relation of soil biology to the taste of food. The film Symphony of the Soil, a stunning exploration of the elaborate relationships and mutuality between soil, water, the atmosphere, plants and animals, screens throughout the day and back for the second year, the most relaxing VR 360-degree farm tour to ever hit the festival circuit will also be available to visitors all day at this year's festival.
As the guests exit through the farm store, purchasing eggs and frozen beef, Johann leads the them to witness an example of how a day comes full circle – just a few metres away, a calf is being born, likely to be named Iggy Pop, but that's another story.
Artscape Wychwood Barns is located at 601 Christie Street, Toronto, ON M6G 4C7, less than 10-minute walk west from the St. Clair West Subway station.
Street and metred parking nearby. Wheelchair accessible.
Admission is $5.00 per adult. Children 12 and under are free.