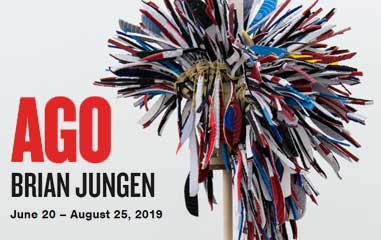 June 20 – August 25, 2019
Art Gallery of Ontario
Opening June 20, 2019 at the AGO, the exhibition offers a new look at the artist's creative process, through new sculptures, film, and archival materials
Opening at the Art Gallery of Ontario (AGO) on June 20, 2019, Brian Jungen brings to Toronto for the first time many of the artist's most iconic works. Internationally renowned for his sculptures and installations made from repurposed consumer goods, this solo exhibition presents over 80 of his most striking works, including new headdresses, masks and an epic film installation, alongside the artist's personal archive — materials that have served as sources of inspiration for his work. An invitation into the artist's creative process, the exhibition is organized by the AGO, and curated by Kitty Scott, the AGO's Carol and Morton Rapp Curator of Modern and Contemporary Art. The exhibition runs to August 25, 2019.
An artist of mixed European and Indigenous heritage, who emerged in the Vancouver art scene 20 years ago, Jungen (b.1970) has created an extensive body of work that engages equally with Indigenous materials and traditions as with pop culture and Western art history.
The exhibition includes, for the first time, the majority of Jungen's freestanding sculptures and masks, including several recent ones never before seen in Canada. Many are from the artist's acclaimed series Prototype for New Understanding (1998-2005), in which Jungen transformed Nike Air Jordan sneakers into sculptures, some of which resemble Northwest Coast masks and Plains Indian headdresses. "My work is largely about transforming things, but these sneakers also speak about where I come from. Nike Air Jordan's are popular among Indigenous youth," Jungen says.
A highlight of the exhibition is Jungen's stunning 48-foot long sculpture of a whale skeleton entitled Cetology (2002), on loan from the Vancouver Art Gallery. Constructed out of ubiquitous plastic patio chairs, it will be suspended from the gallery ceiling. The exhibition also marks the debut of a new director's cut of Modest Livelihood, a film co-starring and co-directed by Jungen and the artist Duane Linklater. Shown simultaneously on five screens, this film installation will show over seven hours of footage, detailing a series of hunting trips made by the artists.
This exhibition marks the first time that the AGO will host a solo-presentation by an Indigenous Canadian artist in the Sam & Ayala Zacks Pavilion.
A recipient of the prestigious Gershon Iskowitz Prize at the AGO, this is the first large-scale display of work by Jungen in Toronto since his 2011 AGO exhibition Tomorrow, Repeated. Jungen has had solo exhibitions in New York, London and beyond, and he is the first living artist to be shown at the National Museum of the American Indian (NMAI), part of the Smithsonian Institution, in Washington, D.C in 2009. A full-colour catalogue will accompany the exhibition.
ABOUT BRIAN JUNGEN
Brian Jungen lives and works in the North Okanagan, British Columbia, Canada. Solo exhibitions include Catriona Jeffries, Vancouver (2016); Kunstverein Hannover (2013); Bonner Kunstverein (2013); Art Gallery of Ontario, Toronto (2011); Strange Comfort, National Museum of the American Indian, Washington, DC (2009); Museum Villa Stuck, Munich (2007); Tate Modern, London (2006); Vancouver Art Gallery (2006); Witte de With, Rotterdam (2006); and the New Museum, New York (2005). Modest Livelihood, a collaborative work with Duane Linklater, has been shown at the Edinburgh Art Festival (2014); Art Gallery of Ontario (2013); and the Walter Phillips Gallery, Banff Centre, in collaboration with dOCUMENTA (13) (2012). Recent group exhibitions include Art for a New Understanding: Native Voices, 1950s to Now, Crystal Bridges Museum of Contemporary Art, Bentonville (2018); Beautiful world, where are you?, Liverpool Biennale, Liverpool (2018); Unsettled, Anchorage Museum (2018) and Nevada Museum of Art, Reno (2017); On Space and Place: Contemporary Art from Chicago, Los Angeles, Mexico City, and Vancouver, De Paul Art Museum, Chicago (2016); Residue: Persistence of the Real, Vancouver Art Gallery (2015); Sakahàn, National Gallery of Canada, Ottawa (2013); and Shanghai Biennial (2012).