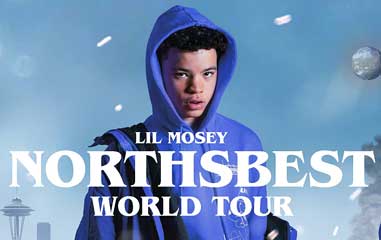 April 2, 2019
NEW VENUE: The Phoenix
All-Ages
Doors: 8PM
Tickets start at $28.00 and are available now at ticketweb.ca.
Due to overwhelming demand, the Lil Mosey show scheduled for April 2nd at The Mod Club is being moved to The Phoenix, with the same date and time.
There is no denying that when rappers from the Seattle rap scene breakthrough, they dominate. Sir Mix-A-Lot became one of hip-hop's best-selling acts of the 1980s and '90s. The Emerald City got its next major triumph more than twenty years later, with the multi-platinum, hit-making duo Macklemore and Ryan Lewis. Now it's 16- year-old Lil Mosey's turn.
Born and raised in the Seattle suburb of Mount Lake Terrace, Lil Mosey was a mere 9-years-old when he was introduced to hip-hop. His oldest brother, Quinnell, played him music from Joey Bada$$, Iamsu!, Souljah Boy, and Mosey became an avid, rap fan, gravitating to the likes of 50 Cent, Nas and Meek Mill.
By the time the baby-faced wordsmith got to the 8th grade, he was actively scouring YouTube to find instrumentals to write to and rap over. It was a way to perfect his budding flow. Lil Mosey recorded his first song, "Duplicate," over Designer's "Panda" beat in his bedroom and dropped it on SoundCloud. It got a couple thousand listens, an encouraging sign for an unknown artist. Over the next year, Mosey continued developing his craft and releasing material.
Then he discovered the beat that changed his life. While browsing the internet, Lil Mosey found a track from Black Mayo and passed it on to his producer, Royce David. "Once I got to the studio and started freestyling, I had the song done in 15 minutes," Lil Mosey recalls of making the smash single "Pull Up," which showcases his effortless lyrical style. "I knew it was fire, so I raised the capital to get a video done."
The move proved prescient. Released in December 2017, the accompanying psychedelic clip gave fans the first real glimpse of Lil Mosey and instantly became an internet sensation, racking up 50,000 views in its first week. In a month, it was up to 300,000. Today, the "Pull Up" video has more than 18+ million views.
Buoyed by the success of "Pull Up" and subsequent single "Boof Pack" (more than nine million YouTube views), Lil Mosey moved to Los Angeles in January 2018. In July, he unleashed the video for the single "Noticed," a remake of one of his early songs. The Cole Bennett-directed clip reached 39+ million views on Lyrical Lemonade. Lil Mosey shows no signs of slowing down with the release of his latest project Northsbest.
As he prepares for the next steps in his career, Lil Mosey knows that he has millions of underage fans paying attention to his lyrics. "I'm 16 so I'm talking about the things I'm seeing and experiencing now," he explains. "I didn't set out to be a role model, but I know there are a lot of young people who look up to me and I accept that as a responsibility."
About RAPSEASON
RAPSEASON is the multi-platform promoter brand and media platform recently launched by INK Entertainment. The first of its' kind, RAPSEASON shows feature some of hip-hop's most exciting artists. It will also be the source of exclusive content from these artists as well as a home for all things hip-hop. RAPSEASON events have featured acclaimed artists such as Future, Travis Scott, Macklemore & Ryan Lewis, Majid Jordan, Mac Miller, Post Malone, Chance The Rapper, Logic and Vince Staples among others.