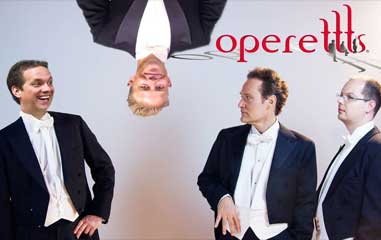 "A Whirlwind of Entertainment"
September 22-24, 2017
St. Lawrence Centre for the Arts
Now in its third decade as Canada's only professional performing arts company dedicated to music theatre in all its variety, Toronto Operetta Theatre opens the 2017-2018 season with Operettts at the St. Lawrence Centre on September 22 with further performances on September 23, 24 (mat 3 pm).,
Direct from Vienna, Operettts – a madcap music comedy! – features the zany antics of three tenors as they compete for stardom on the operetta stage. The best in Viennese operetta and a little bit more, starring tenor Thomas Sigwald and pianist Christian Koch from Vienna and Canadian tenors Michael Barrett and Adam Fisher. A hit at the Volksoper in Vienna and other centres in Germany and Austria, these performances mark the show's North American Premiere. Presented in cooperation with Attila Glatz Concert Productions.
Three tenors and a pianist get entangled in shenanigans, eccentricities and jealousies, complete with confusion and fisticuffs, for self-mocking insights into the profound "difficulties" of being a tenor… an original production first heard at the Vienna Volksoper. Enjoy operetta hits by Lehár, Stolz, Strauß and Kalman in this hilarious, highly entertaining operetta cabaret.
All performances take place at the wheelchair accessible St. Lawrence Centre for the Arts, situated in the downtown theatre district, close to public transit and municipal parking. For information, call the St. Lawrence Centre for the Arts Box Office at 416-366-7723, 1–800-708-6754 or online at www.stlc.com.