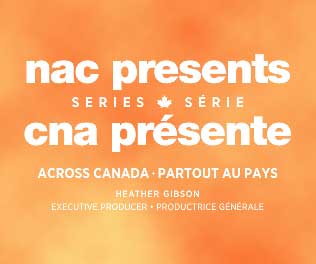 September 2 – December 6, 2017
Across Canada
The National Arts Centre (NAC) announced an unprecedented collaboration with partner organizations across Canada in support of the Canadian music scene. The ambitious initiative called NAC Presents Across Canada will help support nearly 40 concerts in 10 cities across Canada in 2017-2018 to help build the careers of emerging Canadian musicians.
The creative force behind the project is Heather Gibson, the new Executive Producer of NAC Presents, who joined the NAC six months ago after a successful career in the music industry. Immediately upon her arrival in Ottawa, Gibson saw the opportunity to build a network of live music organizations to support the career development of emerging Canadian musicians. She began travelling the country in her new role, and within a few months had made partnerships in St. John's, Charlottetown, Halifax, Montréal, Toronto, Winnipeg, Regina, Calgary, Vancouver and Whitehorse.
"NAC Presents is a fantastic all Canadian music series that was founded six years ago here at the National Arts Centre. It brings some of Canada's best emerging musicians and songwriters to the NAC stages in Ottawa," said Gibson. "NAC Presents Across Canada will start to build a network of music organizations and community promoters that work together to promote talent, help artists develop audiences across Canada, and create touring opportunities and will build national networks for both the artists and the organizations involved," said Gibson.
NAC Presents Across Canada concerts will showcase a wide variety of Canadian emerging musicians in all genres. The series is programmed collaboratively between Heather Gibson and the artistic leadership in each partner organization. The programming will focus on emerging Canadian talent.
"We are proud of Heather Gibson's national ambition," said Peter Herrndorf the President and CEO of the National Arts Centre. "We like to say that 'Canada is our stage' at the NAC and Heather Gibson is living up to that ideal by creating opportunities for artists right across the country. She's a powerhouse, this project didn't take long to come together, Heather Gibson has only been at the NAC for six months," said Herrndorf.
The National Arts Centre is Canada's home for the performing arts, and NAC Presents across Canada will allow the institution to deepen its engagement with the contemporary music scene in every region. NAC Presents Across Canada will also help support the development of emerging artists, and in turn, will support the development of audiences in Canada for emerging music, which strengthens the artistic life of our nation.
NAC Presents Across Canada will mirror the NAC Presents series of all-Canadian music at the National Arts Centre in Ottawa where throughout the year more than 90 concerts by emerging and established Canadian artists are presented on all four of the NAC's performance stages.
Confirmed programming
Yukon Arts Centre
Whitehorse, Yukon

Ferron and Her All Star Band: SEPTEMBER 17
Project Humanity's Freedom Singer: OCTOBER 4
Kane & Potvin: MARCH 2
The Fourth Light Project: An Immersive Multimedia Experience: MARCH 21

Vancouver Folk Music Festival


Vancouver, British Columbia

David Myles: OCTOBER 29
Good Lovelies: DECEMBER 6

Calgary Folk Music Festival
Calgary, Alberta

Martha Wainwright: OCTOBER 24
The Dead South: DECEMBER 2

Regina Folk Festival
Regina, Saskatchewan

Nomadic Massive: NOVEMBER 10
William Prince: NOVEMBER 23
Cold Specks: NOVEMBER 24

Winnipeg Folk Festival
Winnipeg, Manitoba

William Prince: NOVEMBER 9
Nomadic Massive: NOVEMBER 11

Lula Lounge/Lula Music and Arts Centre
Toronto, Ontario

Sarah Thawer, opening night of Women in Percussion series: OCTOBER 11

Phi Centre
Montréal, Québec

Allie X: SEPTEMBER 2
Common Deer: SEPTEMBER 15
Cold Specks: DECEMBER 1

Halifax Pop Explosion
Halifax, Nova Scotia
Confederation Centre for the Arts
Charlottetown, Prince Edward Island

Barenaked Ladies: OCTOBER 16

Arts and Culture Centres of Newfoundland and Labrador
Newfoundland and Labrador
About Heather Gibson
Originally from Manitoba, Heather Gibson built her career in the performing arts in Halifax after graduating from Dalhousie University. She has done everything from running the Halifax Jazz Festival, to opening her own club, to owning an artistic management company.
An active volunteer, Ms. Gibson has served as the Chair of the East Coast Music Association, member of the board for CAPACOA (The Canadian Arts Presenting Association), The Khyber Centre for the Arts, and The Western Roots Artistic Directors.
Heather Gibson was the award-winning Executive Director of the Halifax Jazz Festival, and Founder and Artistic Producer of the In the Dead of Winter Music Festival before joining the National Arts Centre in 2016 as Executive Producer of NAC Presents.
About NAC Presents
NAC Presents thanks title partner BMO Financial Group for their long-standing leadership support of this series. NAC Presents is grateful to the Slaight Family Foundation, whose Slaight Family Fund for Emerging Artists supports performances by emerging artists featured in the NAC Presents 2017–18 season.