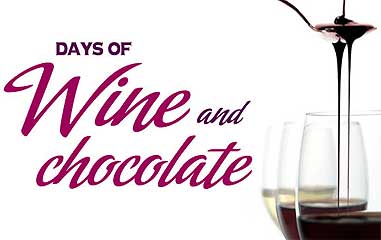 Celebrate Valentine's Day with the perfect pairing
February 16-18, 23-25, 2018
Love is in the air this February, and nothing speaks more to this than the thought of Valentine's Day.
Whether single or in a committed relationship, Valentine's Day gives individuals the opportunity to spotlight how they truly feel. Connecting through cards and conversation hearts, kindred souls are able to show appreciation and adoration towards one another. Deciding how to surprise someone special for the holiday can feel overwhelming, however, you cannot go wrong with wine and chocolate.
"People tend to pick-and-choose between wine or chocolate for Valentine's Day," says Meagan Bates, Manager of Winery Marketing and Retail Operations at Lakeview Wine Co., a division of Diamond Estates Wines & Spirits. "Why not pick both? The richness of chocolate pairs beautifully with the vibrant acidity of the quality wine, creating a unique tasting experience."
Looking to impress this Valentine's Day? Fiona provides the following tips on combining complimentary wines with chocolate:
Chocolate covered strawberries – Matching juicy strawberries to a wine with similar fruity notes will enhance the overall taste of the coco-coated treats. Select a refreshing wine with a sweeter backbone for this pairing, such as a Red Icewine.
Caramel chocolates – Try something new with Seasons Tawny Port. A fortified wine with nutty nuances, Port is an excellent wine to pair with caramel chocolates, with rich rounded flavours that complement the warm sweetness of caramel confections.
White chocolate – White chocolate tends to be on the sweeter side, so it is important to select a light and vibrant wine as its counterpart. Choose a Moscato with fresh fruity tones to compliment the creaminess of white chocolate.
Dark (85% cocoa or higher) – To balance the bitter bold flavours of dark chocolate, pair it with an equally bold red wine. Cabernet Sauvignon is a classic compliment to dark chocolate, because the tannins in the wine balance the bitterness of cocoa.
Dark (semi-sweet, 70%) – Bringing a subtle sweetness to the forefront, semi-sweet chocolate is best matched with a lighter bodied red wine. Semi-sweet chocolate will fully bring out complex fruity tones within Pinot Noir, making it an ideal pairing.
Milk chocolate – Rich and indulgent, milk chocolate is best balanced by a bright wine with high acidity. Pour a lively glass of Riesling to go with milk chocolate, and prepare for a sweet and sublime flavour experience.
For more information, please visit lakeviewwineco.com. Stay engaged on Facebook at /LakeviewWineCo, follow it on Twitter @LakeviewWineCo and on Instagram @lakeviewwineco.
About Lakeview Wine Co.
A division of Diamond Estates Wines and Spirits Inc., Lakeview Wine Co. is found in the heart of Canada's premier wine country, Niagara-on-the-Lake. At its state-of-the-art winemaking facility, Lakeview crafts several Ontario VQA wine brands from specially chosen and carefully managed vineyards from more than 25 grape grower partners in the Niagara Peninsula, including Lakeview Cellars, Fresh, EastDell Estates, 20 Bees and the unique McMichael Collection that pays homage to Canada's famed Group of Seven artists. The Lakeview Wine Co. wine boutique is open daily all year, featuring a selection from each of its brands at the tasting bar. Also available year round is the unique Cellar Floor Experience, a tasting a tour of a 1,000-square-foot space in the heart of the winery where you will sip VQA wines amongst two-storey wine tanks and an ocean of more than 800 wine barrels.