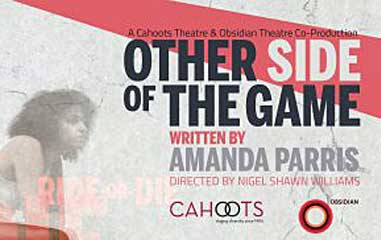 Written by Amanda Parris
Directed by Nigel Shawn Williams
Oct. 14 – Nov. 5, 2017
Aki Studio
This October, Cahoots Theatre and Obsidian Theatre partner to present the world premiere of Amanda Parris' OTHER SIDE OF THE GAME, at Aki Studio, October 14 – November 5, 2017.
Set before the rise of Black Lives Matter, OTHER SIDE OF THE GAME is a time-spanning work that tells the story of silenced Black women who organize communities, protect loved ones, battle institutions, and live each day by a ride-or-die philosophy. This first-time partnership between Cahoots and Obsidian also marks the professional playwriting debut for Amanda Parris.
Inspired by interviews conducted with individuals in Toronto and Halifax, OTHER SIDE OF THE GAME gives voice to Black women who support their men, their families and communities, even in the face of dire consequences. Set in Toronto, straddling modern day and the 1970s Black civil rights movement, the play is evocative and lyrical in its presentation of a population under siege.
Playwright Amanda Parris was born in London, England, descending from Grenadian and Venezuelan ancestry, and was raised on the south side of Jane Street in Toronto. The host of CBC TV's Exhibitionists and CBC Radio 2's Marvin's Room, Amanda is the co-founder of the alternative education organization Lost Lyrics and founder of the critically acclaimed artistic collective T-Dot Renaissance. In 2014, Amanda joined Cahoots' Hot House Creators Unit and was their 2016 Playwright-in-Residence.
Director Nigel Shawn Williams is a four-time Dora Mavor Moore Award-winner as both actor and director. His theatre credits include The Merchant of Venicefor Bard on the Beach this past summer, five seasons at Stratford Festival, four seasons at Shaw Festival, as well as performances in Montreal, Toronto, Winnipeg, Calgary and Vancouver. Nigel is also heavily involved in new play development and mentoring young and emerging artists through the difficult transition from training schools to professional life.
The talented cast of Black Canadian artists includes Virgilia Griffith (The Wedding Party / Crow's Theatre, Dora Award for Honesty/ Suburban Beast), Shakura Dickson (Women, Everyone Loves Sealand / Toronto Fringe Festival), Ryan Rosery (Judas Noir / BDB Productions), Peter Bailey(Enchanted Loom / Cahoots Theatre, Romeo & Juliet/ Dream in High Park), and Ordena Stephens-Thompson (How Black Mothers Say I Love You / Trey Anthony Productions, for colored girls who have considered suicide / when the rainbow is enuf/ Soulpepper).
A meeting place between the urgent activism of the 1970s and today's unapologetic Hip Hop generation, OTHER SIDE OF THE GAME is a deft illumination of resilience and struggle amidst the simmering tensions in Black and other marginalized communities.
Cahoots Theatre and Obsidian Theatre present The World Premiere of
OTHER SIDE OF THE GAME
Written by Amanda Parris
Directed by Nigel Shawn Williams
Starring Virgilia Griffith, Shakura Dickson, Ryan Rosery, Peter Bailey, Ordena Stephens-Thompson
Choreography by Jasmyn Fyffe
Set and Prop Design by Joanna Yu
Costume Design by Rachel Forbes
Lighting Design by Kaitlin Hickey
Sound Design by Verne Good
Deaf Community Consultant: Symara Bonner
Deaf Interpreters: Samreen Aziz, Charlene Malcolm
ASL/English Interpreters: Tara Lee Everett, Erin Fremlin
Aki Studio, Daniels Spectrum, 585 Dundas Street East
October 14 – November 5, 2017
OPENING NIGHT: Wednesday, October 18, 2017
There will be an ASL interpreted performance on Friday, October 20 at 8pm
Tuesday – Saturday @ 8pm | Sunday @ 2:30pm
Tickets $37 • Previews $20 • Arts Worker & Students $25 includes all taxes and ticket fees
To purchase tickets please visit: nativeearth.ca/otherside or call 416.531.1402
For more information please visit cahoots.ca | obsidiantheatre.com
---
Cahoots Theatre holds a prominent place in Toronto's arts community, pioneering programming that reflects Canada's diverse landscape. Focusing on intercultural encounters, the intersection of identities and the innovation of form contributes to Cahoots' powerful and enduring vision. Working with artists of colour, Deaf artists, queer artists, and other marginalized groups, Cahoots gives voice to unique perspectives through the development and production of new works, mentorship opportunities and community outreach initiatives.
Obsidian Theatre is Canada's leading culturally specific theatre company. Their threefold mission is to produce plays, to develop playwrights and to train emerging theatre professionals. Obsidian is passionately dedicated to the exploration, development, and production of the Black voice. Obsidian produces plays from a world-wide canon focusing primarily, but not exclusively, on the works of highly acclaimed Black playwrights.