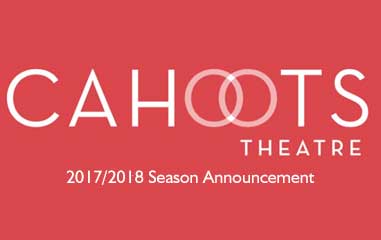 Cahoots Theatre announced its 31st season today with a line-up of exceptional artists, fresh partnerships, and provocative works-in-development. This season, Cahoots aims to ignite contemporary debate and incite rich dialogue inspired by the colliding perspectives of those who call Canada home. It starts with one story, one artist at a time.
Cahoots' 2017-2018 season opens with the world premiere of Amanda Parris' OTHER SIDE OF THE GAME, co-produced with Obsidian Theatre. Set before the rise of Black Lives Matter, this story of silenced black women who organize communities, protect loved ones, battle institutions, and live each day by a ride-or-die philosophy resonates amidst today's bubbling tensions. Presented in Aki Studio from October 14th to November 5th, 2017, this first-time partnership between Cahoots and Obsidian celebrates Parris' deft illumination of the resilience and struggles of a population under siege.
Also in November, Cahoots embarks on a new linguistic initiative, bringing works in home languages to Chinese and Tamil communities concentrated in Toronto's eastern suburbs. LIFT OFF! Scarborough, Cahoots' annual festival of readings and works-in-development, will feature two diasporic works: THE MOTHER TONGUE PROJECT | 母語項目by Jasmine Chen and En Lai Mah in Mandarin and English; and a Tamil version of THE ENCHANTED LOOM | மந்திரத் தறி by Suvendrini Lena, translated by Dushy Gnanapragasam (Asylum Theatre Group | புகலி அரங்கக் குழு).
This season, Cahoots welcomes two collectives as Artists-in-Residence. Boys in Chairs Collective, comprised of Andrew Gurza, Ken Harrower, Frank Hull, Debbie Patterson, Brian Postalian, and Jonathan Seinen, is working on a fun, sexy, and honest exploration of the queer disabled experience. This piece-in-development had a public workshop presentation as a part of the SummerWorks 2017 Lab Series, where it received the inaugural Jon Kaplan Spotlight Award. Byron Abalos, Darrel Gamotin and Franco Nguyen (Soaring Skies Collective) are in also in residence with the touching and hilarious GOOD MOURNING, VIET MOM (formerly SOARING IN LIQUID SKIES) – a hit with both critics and audiences at the 2017 Toronto Fringe Festival.
Cahoots also continues its commitment to development with workshops for stories slated for future seasons by Playwrights-in-Residence, Jani Lauzon (I CALL MYSELF PRINCESS), Raf Antonio (THE EFFEMINATES: A QUEER TALE OF BLOODY VENGEANCE), and Suvendrini Lena (RUBBLE).
Under the dramaturgical guidance of Artistic Director Marjorie Chan, and supported by Dramaturgy Intern Aaron Jan, Cahoots' creation unit HOT HOUSE returns with new members Jasmine Chen, Amanda Cordner, Izad Etemadi. Tsholo Khalema, En Lai Mah, and Alicia Richardson. Returning members include Jo SiMalaya Alcampo, Kanika Ambrose, Raf Antonio and April Leung.
2017-2018 also marks a year of transition and growth for Cahoots, as the company welcomes recently appointed General Manager Kat Horzempa, and expands to include Cahoots' Associate Artistic Producer, Indrit Kasapi, in a newly permanent role.
"Launching our season with Amanda Parris' timely and powerful play, developed in-house at Cahoots, is the perfect inspiration and start to our season. As we workshop and explore for our future seasons, we are thrilled to highlight a broad range of stories – from the hilarious and poignant, to the ribald and provocative. In documentary styles, historical dramas, and musical works; we're aspiring to tell more diverse stories, from more diverse perspectives than ever."
– Marjorie Chan, Artistic Director
CAHOOTS THEATRE'S 2017-2018 SEASON
OTHER SIDE OF THE GAME
by Amanda Parris
a Cahoots Theatre and Obsidian Theatre Co-Production
October 14-November 5, 2017 | Aki Studio | Tickets $20-$37
Box Office: nativeearth.ca/otherside | 416-531-1402
LIFT OFF! SCARBOROUGH
Annual Festival of Readings and Works-in-Devleopment
THE MOTHER TONGUE PROJECT | 母語項目 by Jasmine Chen and En Lai Mah
THE ENCHANTED LOOM | மந்திரத் தறி by Suvendrini Lena with
Tamil translation by Dushy Gnanapragasam in collaboration
with Asylum Theatre Group | புகலி அரங்கக் குழு
November 2017 | Free Admission
ARTISTS-IN-RESIDENCE
Boys in Chairs Collective & Soaring Skies Collective
PLAYWRIGHTS-IN-RESIDENCE
Jani Lauzon, Raf Antonio & Suvendrini Lena
---
CAHOOTS THEATRE: Celebrating its 31st Season, Cahoots Theatre holds a prominent place in Toronto's arts community, pioneering programming that reflects Canada's diverse landscape. Focusing on intercultural encounters, the intersection of identities and the innovation of form contributes to Cahoots' powerful and enduring vision. Working with artists of colour, Deaf artists, queer artists, and other marginalized groups, Cahoots gives voice to unique perspectives through the development and production of new works, mentorship opportunities and community outreach initiatives. For more information visit cahoots.ca.