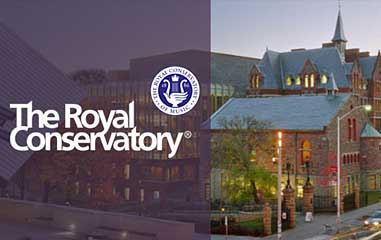 The Royal Conservatory of Music regrets to announce that the Black Arm Band concert in Koerner Hall on Friday, March 23, 2018, and their entire tour, been cancelled due to the company's ceasing operation.
The Royal Conservatory ticket buyers have multiple options, including exchanging their tickets for another concert during the 2017-18 concert season, exchanging them for a gift certificate, receiving a charitable tax receipt by donating ticket value to The Conservatory, or obtaining a refund.
While some concerts in the Music Mix concert series are close to being sold out, tickets still remain for Holly Cole, who will be performing all her fan favourites and several wonderful new songs from her soon to be released 12th studio recording; the annual Maple Blues Awards; DJ Jazzy Jeff and the Playlist & Skratch Bastid with a new stereotype-busting, genre-defying show; the dashing, dapper, and debonair Max Raabe and Palast Orchester, and three SongBird North evenings.
The Royal Conservatory's 2017-18 concert season is made possible through the generous support of:
Major & Series Sponsors and Supporters: BMO Financial Group, Invesco, RBC Foundation, TD Bank Group, The W. Garfield Weston Foundation, David G. Broadhurst, J. Hans Kluge, Michael & Sonja Koerner, a gift in honour of R.S. Williams & Sons Company Ltd., Rebanks Family, Dorothy Cohen Shoichet, and an anonymous donor
Performance Sponsors and Supporters: Aecon Group Inc., Alexanian Flooring, Audi Uptown, b espresso bar, Consulate General of Spain – Tourism Section, Deloitte, Downtown Porsche, Georgian Capital Partners, Next Pathway Inc., Worldwide Quest, Efnan Abacioglu – Forest Hill Real Estate Inc. Brokerage, Armenian Community Centre and Hamazkayin Cultural Association, The Cheng Family Fund, a gift in memory of Gary Miles, Sue Mortimer, Brayton Polka, Deborah Leibow & Ken Snider, Diana & Philip Weinstein, and three anonymous donors
Wine & Beverage Sponsors: Coca-Cola, Inniskillin, Mill St. Brewery, Woodbridge by Robert Mondavi
Media Sponsors: Classical 96.3 FM, JAZZ.FM91, NOW, WholeNote, Musicworks
Government Supporters: Government of Canada, Canada Arts Presentation Fund – Canadian Heritage, Canada Council – New Chapter, Ontario Arts Council, Ontario Cultural Attractions Fund, Toronto Arts Council
Music Mix Concerts at The Royal Conservatory
Maple Blues Awards: Monday, January 15, 2018 at 7pm | Koerner Hall; $35-$80
DJ Jazzy Jeff and the Playlist & Skratch Bastid: Saturday, January 27, 2018 at 8pm | Koerner Hall; $40-$55
SongBird North #2: Saturday, March 17, 2018 at 8pm | Temerty Theatre; $35
Max Raabe and Palast Orchester: Wednesday, April 18, 2018 at 8pm | Koerner Hall; $45-$100
SongBird North #3: Saturday, May 5, 2018 at 8pm | Temerty Theatre; $35
Tickets and subscriptions are available online at www.rcmusic.com/performance, by calling 416.408.0208, or in person at the Weston Family Box Office
Become a Royal Subscriber: select any 4-6 concerts and save 10%; select any 7+ concerts and save 15%; both levels receive special subscriber benefits
A limited number of $15 BMO Rush Tickets are available starting 90 minutes before all performances presented by The Royal Conservatory.
Tickets to free concerts become available seven days prior to the date of the performance through the Weston Family Box Office.
All concerts take place at The Royal Conservatory of Music TELUS Centre for Performance and Learning, 273 Bloor Street West, Toronto