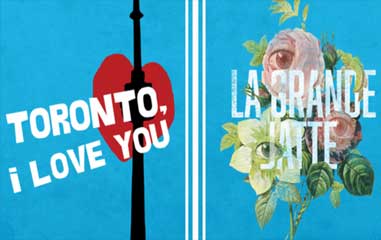 Bad Dog's award-winning resident cast brings back the critically acclaimed hit shows Toronto, I Love You and La Grande Jatte this September.
An unconventional love letter to the city, Toronto, I Love You is an unscripted comedy about unexpected connections, set against a backdrop of neighbourhoods suggested by the audience.
"If you're into improv done well, this one is a must." – Mooney on Theatre

"Bad Dog Repertory Players allow their audience to laugh at their city out of joy, rather than cynicism." – Toronto Star (3.5 out of 4 stars)

"What was most surprising about Toronto, I Love You was how wonderfully heartwarming it was. While many improv shows dwell in the land of the ridiculous or outrageous, Toronto, I Love You lives in one of whimsy. It's truly a love letter. And while of course allowing the improv to go where it will, resulting in some truly side-splitting moments, there is an underlying spirit of love. It's a show that's not overdone or outrageous, with humor that is both smart and silly, both quietly sweet and delightfully raucous. This balance is hard to strike in improv, but Toronto, I Love You, gets it to a tee." – My Entertainment World
Toronto, I Love You features a handful of spontaneously-crafted storylines that intertwine and intersect each other in surprising ways. Nicolas di Gaetano (Mi Casa Theatre, Business As Usual) serves as musical muse for the piece, both underscoring and inciting the action with a mix of Canadian songs – some improvised, some well-known – chosen each night to complement the stories.
Toronto, I Love You is directed by Bad Dog Artistic Director Julie Dumais Osborne and stars: Nigel Downer (Second City, Make it Pop! – Nickelodeon), Sarah Hillier (Second City, Canadian Comedy Award: best improviser), Sean Tabares (Canadian Comedy Award: best improviser, The Commander's Brew podcast), Lucy Hill (The Globe Theatre – Regina; I, Claudia – Neptune Theatre), Daniel Maslany (Four in the Morning – CBC, Murdoch Mysteries – CBC), Anders Yates (Uncalled For, Helix – SYFY), Andrew Bushell (32 Short Sketches About Bees, Fake Cops), Rakhee Morzaria (Notes to Self – CBC Comedy, Be Right Back), Jess Bryson (WordPlay, The Beaverton), Sharjil Rasool (Odd Squad – PBS Kids, JFL42 New Faces) and Andrea Marston (The Kweendom/Yas Kween, Bad Dog Breakout Performer 2016) with live, improvised music by Nick DiGaetano (Mi Casa Theatre, Business as Usual)
Toronto, I Love You
Wednesday, September 13 – Saturday, September 16 at 8pm
Friday & Saturday, September 22 & 23 at 10pm
Preview Performance: Tuesday, September 12 at 9:30pm
Opening Night: Wednesday, September 13 at 8pm
Bad Dog Comedy Theatre (875 Bloor Street West)
Tickets: Students/Arts Workers $10 | Adults $15 online or in person at the box office
www.baddogtheatre.com/toronto-i-love-you
---
Go ahead and stare… Bad Dog Theatre takes people-watching to another level with this remount of the award-winning show: La Grande Jatte. Inspired by the iconic impressionist painting by Georges Seurat, "A Sunday Afternoon on the Island of la Grande Jatte", La Grande Jatte plays with the voyeuristic pleasure of presuming the stories of strangers seen in a public setting.
"Bad Dog perfected the dramedic balance in 2016 with La Grande Jatte, which combined heartfelt storytelling with goofy comedy, an inventive concept, and an internal direction device that was both beautiful and game-changing in how many possibilities it opened for each scene."

– 2016 My Theatre Award winner – Outstanding Sketch/Improv

"…memorable for the sweetness that can persist after the laughter dies down."

– Toronto Star (3.5/4 stars)
La Grande Jatte's first full production was presented with the support of the City of Toronto through the Toronto Arts Council. It was originally workshopped with the international ensemble at the 2015 Vancouver Improv Festival and received its first Toronto staging at the Rhubarb Festival (Buddies in Bad Times) in February of 2016.
Stacked with improv heavy-hitters hailing from across the country, the Canadian Comedy Award-nominated Bad Dog Repertory Players specialize in creating new unscripted show formats that showcase Toronto & the Canadian experience (including: This Canadian Life, You Are Here, 63 South and People City). Since their inception in 2012, they've performed in Vancouver, Regina, Montreal, Ottawa, as part of NxNE & JFL42, and they were named Best Improv Troupe in NOW Magazine's Best of Toronto Readers' Choice Poll in 2013, an honour for which they have been shortlisted in multiple years.
La Grande Jatte is directed by Bad Dog Artistic Director Julie Dumais Osborne and stars: Nigel Downer (Second City, Make it Pop! – Nickelodeon), Lucy Hill (The Globe Theatre – Regina; I, Claudia – Neptune Theatre), Daniel Maslany (Four in the Morning – CBC, Murdoch Mysteries – CBC), Anders Yates (Uncalled For, Helix – SYFY), Amy Matysio (YPT, Soulpepper), Clare McConnell (Star Trek: Discovery – CBS, Second City TourCo.), Andrew Bushell (32 Short Sketches About Bees, Fake Cops), Christian Smith (Soul Decision, Your Kids) and Nicole Passmore (Benjamins, Virginia Jack) with live, improvised music by Nick DiGaetano (Mi Casa Theatre, Business as Usual)
La Grande Jatte
Saturday, September 16 at 10pm
Wednesday, September 20 to Saturday, September 23 at 8pm
Preview performance: Friday, September 15 at 10pm
Opening: Saturday, September 16 at 10pm
Bad Dog Comedy Theatre (875 Bloor Street West)
Tickets: Students/Arts Workers $10 | Adults $15 online or in person at the box office
www.baddogtheatre.com/la-grande-jatte