January 20-30
The Bad Dog Comedy Theatre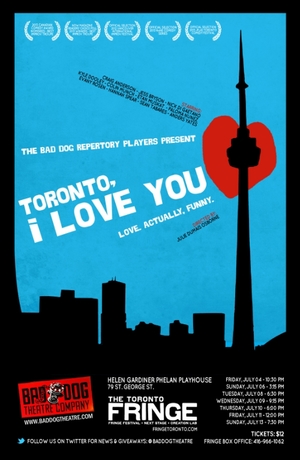 Bad Dog's award-winning resident cast bring back their critically acclaimed hit show Toronto, I Love You for a limited run this January. An unconventional love letter to the city, Toronto, I Love You is an unscripted comedy about unexpected connections, set against a backdrop of neighbourhoods suggested by the audience.
"If you're into improv done well, this one is a must." – Mooney on Theatre
"What was most surprising about Toronto, I Love You was how wonderfully heartwarming it was. While many improv shows dwell in the land of the ridiculous or outrageous, Toronto, I Love You lives in one of whimsy. It's truly a love letter. And while of course allowing the improv to go where it will, resulting in some truly side-splitting moments, there is an underlying spirit of love. It's a show that's not overdone or outrageous, with humor that is both smart and silly, both quietly sweet and delightfully raucous. This balance is hard to strike in improv, but Toronto, I Love You, gets it to a tee." – My Entertainment World
Toronto, I Love You features a handful of spontaneously-crafted storylines that intertwine and intersect each other in surprising ways. Nicolas di Gaetano (Mi Casa Theatre, Business As Usual) serves as musical muse for the piece, both underscoring and inciting the action with a mix of Canadian songs – some improvised, some well-known – chosen each night to complement the stories.  "This show has quickly become our house favourite," says director Julie Dumais Osborne. "Sure, it's funny – with this cast, that's inevitable – but it also has the biggest heart."
Stacked with improv heavy-hitters hailing from across the country, the Canadian Comedy Award-nominated BDRP specialize in creating new unscripted show formats that showcase Toronto & the Canadian experience (including This Canadian Life, You Are Here, 63 South and People City). Since their inception in 2012, they've performed in Vancouver, Regina, Montreal, Ottawa, as part of NxNE & JFL42, and they were named Best Improv Troupe in NOW Magazine's Best of Toronto Readers' Choice Poll in 2013, an honour for which they have been shortlisted for the past three years.
The cast for Toronto, I Love You is: Craig Anderson (The Sunday Service), Jess Bryson (A Galaxy Far, Far Away), , Nigel Downer (Second City), Lucy Hill (Tails from the City), Colin Munch (Theatre Brouhaha), Hannah Spear (Sexy Nerd Girl), Amy Matysio (Soulpepper) and Sean Tabares (Best Male Improviser – CCAs).
Toronto, I Love You
8pm | Wednesday-Saturday | January 20-30
The Bad Dog Comedy Theatre (875 Bloor Street West)
Tickets: Students/Arts Workers $10 | Adults $15
online or in person at the box office
www.baddogtheatre.com/toronto-i-love-you-run/