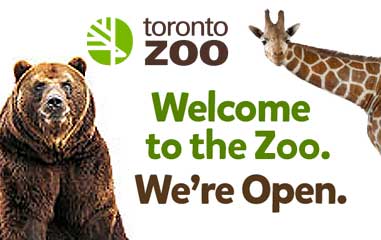 Board of Management Ratifies Agreement
Following the ratification process by CUPE Local 1600 and the Toronto Zoo Board of Management the Toronto Zoo is pleased to announce it will be re-opening to the public on Thursday, June 15, 2017 at 9 am. The Zoo will continue with its peak season hours of 9 am to 7 pm daily.
Unionized staff will be returning to work on Tuesday, June 13, 2017 and exempt staff will return to their regular duties at the same time. During the next couple of days, staff will be preparing the Zoo for the re-opening including working with Compass Group Canada, our food services provider, to restock the food outlets onsite.
The staff at the zoo want to thank their valued guests, members and clients for their patience during the labour disruption and we look forward to their continued support for the Toronto Zoo as a world leader in conservation, education and scientific programs.
About Toronto Zoo
The Toronto Zoo is Canada's premier zoo and a national leader in saving wildlife to ensure the rich diversity of nature for future generations. More than a tourist attraction, the Toronto Zoo boasts a number of leading programs for helping wildlife and their natural habitats – from species reintroduction to reproductive research. A world-class educational centre for people of all ages, the Toronto Zoo is open every day except December 25 and attracts approximately 1.3 million visitors each year. For general information visit torontozoo.com.
Toronto Zoo is accredited by Canada's Accredited Zoos and Aquariums (CAZA) and the Association of Zoos and Aquariums (AZA). The Zoo has also achieved the Canadian Council on Animal Care (CCAC) Certificate of Good Animal Practice® and is inspected by the Ontario Ministry of Agriculture, Food and Rural Affairs (OMAFRA).