THEATRE REVIEW
If you haven't had the chance to see two of the most amazing theatrical events involving and starring horses, then you must make it a point to catch these two fascinating shows before they trot out of town.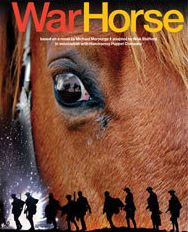 WARHORSE
WARHORSE is undoubtedly one of the most genuine, intrigueing and heart wrenching stage pieces I've ever seen, involving puppetry, since The Lion King. When settling into my seat at the Princess of Wales Theatre, I wasn't sure what to expect. Whether the stage production would match up to the novel by Michael Morpurgo or the cinema version adapted by Nick Stafford, I had seen a few weeks earlier. I couldn't imagine how the puppeteers and actors would play out many of the scenes that would involve a cast of thousands on screen. To watch Joey, the title horse, change from a foal to a full-grown stallion
To say that this live presentation of War Horse is anything but amazing would be an understatement. Within the first fifteen minutes, my attention was drawn to every detail presented before my eyes. Like a little kid, I was entranced and awed by the sheer believability of the puppet horses and their handlers. Every move, every jerk, every tick – I forgot I was watching a puppet or should I say puppets – or even took notice of the handlers who I tuned out very quickly.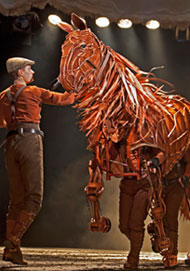 The story plays out with great structure and staging with special effects that were tasteful and beautifully synchronized. The acting is superb with a cast of  characters that bring to life the love us humans have for horses and bring to light the important part horses played in the first world war.
War Horse is a spectacle that must be seen and not missed before it's harnessed up and moves on.
War Horse continues at the Princess of Wales Theatre for an indefinte run. Visit mirvish.com for ticket information.

CAVALIA'S ODYSSEO        
If you are looking to feast your eyes on real live horses and witness a  live equestrian spectacle, look no further that  Cavalia's ODYSSEO which is being routinely held over week after week with the final closing date now being August 19th.
The majestic presence of these beautiful creatures as they act their way as solo performers or as an ensemble on a grand scale, is beholding to the eyes. With the support of great high-tech audio visual techniques, they generate an amazement factor that is normally reserved for the likes of Cirque du Soleil.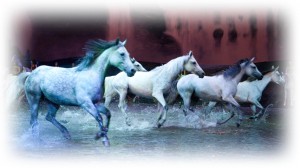 Staged under the world's largest touring Big Top tent at the Port Lands on Cherry Street, this long-awaited production must be seen by all – young or old – horse lovers or likers. You will never ever see this kind of synchronized work between man and horse.
Cavalia's Odysseo is an ode to horse and man that marries the equestrian arts and high-tech theatrical effects with 61 horses and 49 artists on a stage the size of two hockey rinks. A hill three-storeys high, a lake and a technical grid supporting 80 tons of special effects lighting and projection equipment, a real carousel and acrobatic equipment— all far beyond anything attempted on any touring show.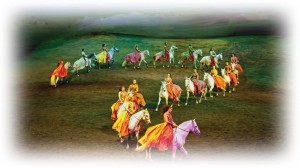 The horsemanship and acrobatics in Odysseo is awe inspiring. Homage to the ancient complicity between human and horse, Odysseo offers unique equestrian numbers which stand out for the impressive number of horses they feature on stage at once. These huge ensembles are made possible by the immense stage, the wings that are more than 50 feet wide, and the patient work of the equestrian trainers who spent months habituating so many horses to cohabitate harmoniously on stage.
Horse lovers will be especially impressed by the magnificent equestrian carousel number in which 16 riders draped in sumptuous, vibrant silks execute impressive figures atop their mounts, aided neither by bit nor bridle, only a simple leather collar around the neck. They will likewise appreciate the degree of difficulty in the beautiful liberty number, uniting purebred Arabian horses directed by inaudible vocal commands from their kneeling trainer. The unforgettable scene that takes the cake, however, has us witness the waking of 30 horses asleep onstage. Gradually the horses group into twos, then fours, willingly following the artists who accompany them in an open space as vast as it is populated.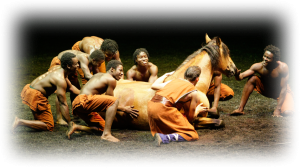 On the acrobatics front, the symbiosis between human and horse is pushed further then before, thanks especially to the omnipresence of a troupe from Guinea. At once acrobats, gymnasts, dancers and show hosts blessed with an infectious spirit, they alone make the show worth seeing. Rare are athletes so broadly skilled who can also jump so incredibly high. Just as amazing are the acrobats on urban stilts who take part in a friendly obstacle-jumping competition with both the Guineans and horses, and the graceful aerialists who, like angels, fly above the stage in a gorgeous silks number. Although the audacity, inventiveness and monumental scope of Cavalia's new creation may boggle the mind, the essence of this magnificent equestrian odyssey lies elsewhere. Beyond the impressive technical display and equestrian and acrobatic numbers that are unlike anything ever seen on stage, Odysseo is first and foremost a work that feeds the soul. In these difficult, troubled times, Odysseo offers up something gentle, even tender. The poetry flowing from this grand adventure shines a light on a more humane world where human and horse may live in harmony. For just a few, hours, the spectator sets off to discover new horizons, the limits of his imagination, and gets to experience a waking dream in a world where beauty, serenity and hope reign.
Time is running out for you and your family to catch this herd of stallions before they gallop out to their next stop. Visit cavalia.net for ticket information.
- Joey Cee, Managing Editor