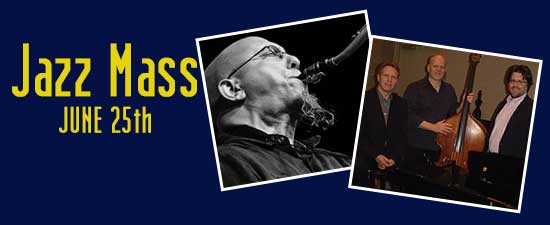 Tom Reynolds, The Rev. Neil Young and St. Andrews United Church Choir Director Mark Rhunke are thrilled to present – for the SIXTH consecutive year, "JAZZ MASS"
Featuring the multiple GRAMMY AWARD winner and international saxophone innovator Jeff Coffin and The Tom Reynolds Trio
on
SUNDAY – JUNE 25th – 11:00 AM
at St. Andrews United Church, 117 Bloor Street, East
(www.standrewsunited.com)
!!FREE ADMISSION!!
On SUNDAY, JUNE 25th, at 11:00 AM, Tom Reynolds, The Rev. Neil Young and St. Andrews United Church Choir Director Mark Ruhnke present – for the SIXTH consecutive year – the popular and joyous "JAZZ MASS", featuring multiple GRAMMY AWARD winning, international saxophone innovator, JEFF COFFIN along with "THE TOM REYNOLDS TRIO", with Tom Reynolds on piano, George Kohler on bass and Lorne Nehring on drums, as well as special guests, JUNO-winning guitarist/composer MICHAEL OCCHIPINTI and the highly regarded CHOIR OF ST. ANDREWS UNITED CHURCH. The Mass will feature original compositions, jazz standards and arrangements of traditional liturgical music. Although jazz has a strong presence in the weekly service at St. Andrew's, this mass will provide the opportunity to explore the full potential of improvisation in worship. ADMISSION IS FREE, and St. Andrew's United Church is located at 117 Bloor St., East – M4W 1A9. For further information, please e-mail standrewsunited@outlook.com, or call the venue at 416-929-0811.
About Jeff Coffin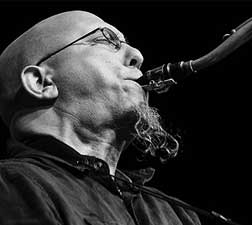 Saxophonist Jeff Coffin is a globally recognized musician, composer, educator and author. He is a member of "The Dave Matthews Band", a three-time GRAMMY AWARD winner and a fourteen year member of "Bela Fleck and The Flecktones" (1997-2010). Jeff also fronts his own group, "Jeff Coffin and the Mu'tet". He has founded The Nashville Jazz Composers Collective and in 2012, he started, and continues to run EAR UP RECORDS. Jeff has played on countless studio recordings, including multiple solo projects. He also Produces, Engineers and is a Yamaha and D'Addario Performing Artist. Additionally, Jeff is an avid photographer and also finds time to teach Saxophone and Improvisation at Vanderbilt University in Nashville, Tennessee. Some of the artists with whom Coffin has recorded and shared the stage with include a virtual "Who's Who" of musicians, including "Bela Fleck and The Flecktones", "The Dave Matthews Band", Branford Marsalis, Bob Mintzer, DJ Logic, "New Orleans Social Club", Maceo Parker, McCoy Tyner, Baaba Maal, Phish, "Mike Clark's Prescription Trio", "Galactic", Kirk Whalum, "My Morning Jacket", "Widespread Panic", Chris Thile, Willie Nelson, Chester Thompson, Garth Brooks, Van Morrison, J.D. Souther, Vinnie Colaiuta, "The Dixie Chicks", 'Rakalam' Bob Moses, Stanton Moore, "Brooks and Dunn", "Tuvan Throat Singers", "The Alash Ensemble & Congor Ol Ondar", George Porter, Jr., Umphrey's McGee, Del McCoury, John Scofield, "Yonder Mountain String Band", Marc Broussard, Martina McBride, "Lynyrd Skynyrd", "The Wailers" and many, many others.
About Tom Reynolds and "The Tom Reynolds Trio"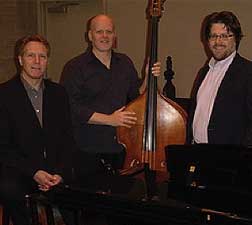 Growing up in Chicago, and then moving to Nashville after his university days, Tom had the good fortune of performing with numerous gifted and well-respected musicians during the 1990's – before beginning his career as a Professor of Religion and Theology. He worked as Musical Director and toured with Grammy-winning jazz vocal group, "Take Six," which included an HBO "House of Blues" television special as well as appearances on NBC's "The Tonight Show" and "The Today Show". Tom also toured extensively as Musical Director for Engelbert Humperdinck. Additionally, he performed and toured with top country artists including Shania Twain, Shelby Lynn, Crystal Gayle and Ty Herndon, as well as with R&B artists Max Carl (from "38 Special") and Glen Frey (from "The Eagles"). On the jazz front, while in Nashville, Tom performed with iconic jazz artists Jeff Coffin, Bela Fleck, Victor Wooten, Kirk Whalum, Chester Thompson (drummer from "Genesis"), Denny Jiosa, and Boots Randolph, among others. Since re-locating to Toronto in 2007, Tom has worked with local musicians in the studio and occasionally in jazz clubs around town. He has been active since 2009 as pianist at St. Andrew's United Church.