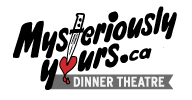 Mysteriously Yours Dinner Theatre
2026 Yonge Street, Toronto
Reservations: 416-486-7469 or 1-800-NOT-DEAD (668-3323)
www.mysteriouslyyours.com
Mysteriously Yours Dinner Theatre is Celebrating 28 Years of Hilarious, Interactive Murder Mysteries!
Enjoy a fabulous meal from their new Dinner Menu. The intrigue heightens around dessert time, where you meet some colourful characters. The plot thickens when somebody dies! A detective leads the investigation. The suspects are spread throughout the room, sitting right at the tables with the guests. So, you get to participate and see if you can solve… WHODUNIT?
March – August 26, 2017
THE FINAL CLUE?
Whodunit? Which Weapon? What Room? Come and join the fun, and help us celebrate 30 Years of interactive murder mysteries!
For dates and times, please visit their website at www.mysteriouslyyours.com or call 416-486-7469 (or 1-800-NOT DEAD) for further details and reservations. Mysteriously Yours Dinner Theatre is located at 2026 Yonge Street. Just north of Davisville.
---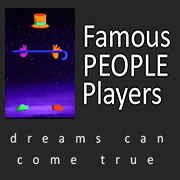 FAMOUS PEOPLE PLAYERS DINNER THEATRE
343 Evans Avenue, Toronto
416-532-1137
www.fpp.org
Reservations for all show events are subject to availability.
A Typical Evening Event
6:00 pm – Doors Open
6:45 pm – Dinner is served in our Dining Room
8:00 pm – Performance – You will be escorted to our Phil Collins Theatre
9:00 pm – Dessert, coffee and tea are served back in our Dining Room
Chris Ellis Jazz Trio
A Typical Afternoon Event
11:30 am – Doors Open
12:00 pm – Lunch is served in our Dining Room
1:00 pm – Performance – You will be escorted to our Phil Collins Theatre
2:00 pm – Dessert, coffee and tea are served back in our Dining Room
Custom or private events are available. Please call 416-532-1137 for more information.
January 2017 to May 2017
RUNNING WILD
The best of the best of everything FPP have performed from our Broadway show to Vegas. Under the illliusion of black light our stage will Shake Rattle & Roll. A musical mix from Oldies but goodies swing to POP – Something for everyone to enjoy. Upbeat fast pace. You will wish you had your blue suede shoes on to get up in dance.
June 2017 – October 2017
MADE IN CANADA – THE MUSICAL
A beautiful Maple Leaf voiced by Dan Aykroyd comes to life and takes you on a musical journey from province to province. You will be WOWED with the animation of dancing potatoes from PEI to Tulips and Fleur de lis that grow before your eyes. From across the Prairies to good old Vancouver Town. Don't miss this all Canadian Production!
November 2017 – January 12, 2018
DECK THE HALLS
A stunning musical that will Deck The Halls with fun and laughter. Larger than Life size puppets are skillfully animated under the black light technique. FPP creates a special show saluting Broadway with all your favorite Broadway shows rolled into one.
---
SECOND CITY
51 Mercer Street (at Blue Jays Way, next to Gretzky's)

416-343-0011
www.secondcity.com/toronto
The Second City has been the home of ground-breaking comedy for more than 50 years, launching the careers of entertainment legends such as Bill Murray, John Candy, Andrea Martin, Mike Myers, Colin Mochrie, Tina Fey, Stephen Colbert and a new generation of rising stars. Our critically-acclaimed productions continue to be inspired by the characters and events that fill the world around us. The Second City's intimate cabaret theatre is located in the heart of Toronto's Entertainment District, just steps from the city's top restaurants, hotels, and attractions. Our fully-licensed theatre offers a full bar and food menu, with table service available throughout the performance.
TORONTO MAIN STAGE THEATRE 2017
COME WHAT MAYHEM!
2016 got you down? Our legendary mainstage ensemble is at the top of their game in this hilarious skewering of the 2016 news cycle that will make you laugh, cry, and laugh again.
HOOKING UP WITH THE SECOND CITY
The Second City knows a few things about love — we've been looking at and laughing about relationships for many years. Hooking Up With The Second City makes mirth out of missed connections, girls' night out adventures and all the crazy things we do for love.
IMPROV ALL STARS
An evening of unscripted and unequaled improvisational comedy starring some of our favourite Second City alumni, the cast of The Second City Guide to the Symphony.
2017 SPRING MAINSTAGE REVUE
This February, our legendary comedy ensemble brings down the house with audience favourites from their hit show Come What Mayhem!, plus brand new material for 2017.
BIG BAD WOLF (VS. LORD UNDERWEARFACE VON SCHTINKER)
A hilarious musical romp that takes a new look at a children's classic.
THE BEST OF THE SECOND CITY
The Second City's Touring Company comes home to Toronto for an unforgettable night of classic and original sketch comedy, along with hilarious unscripted improvisation!
---