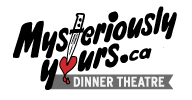 Mysteriously Yours Dinner Theatre
2026 Yonge Street, Toronto
Reservations: 416-486-7469 or 1-800-NOT-DEAD (668-3323)
www.mysteriouslyyours.com
Mysteriously Yours Dinner Theatre is Celebrating 28 Years of Hilarious, Interactive Murder Mysteries!
Enjoy a fabulous meal from their new Dinner Menu. The intrigue heightens around dessert time, where you meet some colourful characters. The plot thickens when somebody dies! A detective leads the investigation. The suspects are spread throughout the room, sitting right at the tables with the guests. So, you get to participate and see if you can solve… WHODUNIT?
December 2017 – January 2018
Mimico Vice
Travel back 30 years to 1987… Hard-nosed detective Sonny Cracket has his hands full dealing with the notorious Breakfast Club Gang. Life ain't easy when you work for the toughest police force around…Mimico Vice!
February – June 2018
Murder on the DisOrient Express
The action begins when you notice some colourful characters enter the dining room. Interact as much as you're comfortable with- ask them where they were earlier that day, how they know each other, where that accent is from! Then, someone you've just met dies or a body is found. A detective is called in to lead the questioning but you get to follow along too and keep track of the clues.
For dates and times, please visit their website at www.mysteriouslyyours.com or call 416-486-7469 (or 1-800-NOT DEAD) for further details and reservations. Mysteriously Yours Dinner Theatre is located at 2026 Yonge Street. Just north of Davisville.
---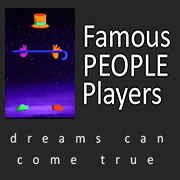 FAMOUS PEOPLE PLAYERS DINNER THEATRE
343 Evans Avenue, Toronto
416-532-1137
www.fpp.org
Reservations for all show events are subject to availability.
A Typical Evening Event
6:00 pm – Doors Open
6:45 pm – Dinner is served in our Dining Room
8:00 pm – Performance – You will be escorted to our Phil Collins Theatre
9:00 pm – Dessert, coffee and tea are served back in our Dining Room
Chris Ellis Jazz Trio
A Typical Afternoon Event
11:30 am – Doors Open
12:00 pm – Lunch is served in our Dining Room
1:00 pm – Performance – You will be escorted to our Phil Collins Theatre
2:00 pm – Dessert, coffee and tea are served back in our Dining Room
Custom or private events are available. Please call 416-532-1137 for more information.
November 2017 – January 12, 2018
DECK THE HALLS
A stunning musical that will Deck The Halls with fun and laughter. Larger than Life size puppets are skillfully animated under the black light technique. FPP creates a special show saluting Broadway with all your favorite Broadway shows rolled into one.
January – May 2018
POP AND ROCK
POP & ROCK will explode on stage under the illumination of Black Light. IT promises to be EXICITING, Wonderful and WOW. The Color, the Lights and the Sound, will make you feel you are at a concert for the STARS! FPP brings Grease to life on stage along with your favorite I tunes that ROCK! You are never too young or too old for Pop & Rock. All ages welcomed
---
SECOND CITY
51 Mercer Street (at Blue Jays Way, next to Gretzky's)

416-343-0011
www.secondcity.com/toronto
The Second City has been the home of ground-breaking comedy for more than 50 years, launching the careers of entertainment legends such as Bill Murray, John Candy, Andrea Martin, Mike Myers, Colin Mochrie, Tina Fey, Stephen Colbert and a new generation of rising stars. Our critically-acclaimed productions continue to be inspired by the characters and events that fill the world around us. The Second City's intimate cabaret theatre is located in the heart of Toronto's Entertainment District, just steps from the city's top restaurants, hotels, and attractions. Our fully-licensed theatre offers a full bar and food menu, with table service available throughout the performance.
THE BEST OF THE SECOND CITY
The Second City's Touring Company comes home to Toronto for an unforgettable night of classic and original sketch comedy, along with hilarious unscripted improvisation!
December 16 – January 5, 2018
Miracle on Mercer Street
This winter, The Second City finally brings back its most beloved holiday show with The Second City Family Holiday Show, Miracle on Mercer Street!
February 12, 14, 16, 17, 18, 2018
Hooking Up
The Second City knows a few things about love — we've been looking at and laughing about relationships for many years. Hooking Up With The Second City makes mirth out of missed connections, girls' night out adventures and all the crazy things we do for love. This sassy and fun revue is a modern mix of romance, rancor and everything in between.
---