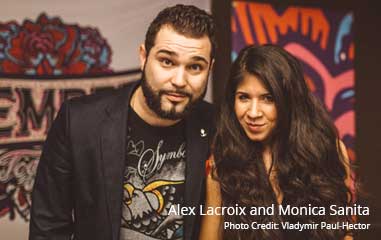 Sip and savour the world's most beautiful tequila!
June 16 – 17, 2017
Sugar Beach
Siempre Tequila Plata, announced that they are a two-time winner at this year's Spirits International Prestige (SIP) Awards, earning both the PLATINUM and CONSUMER CHOICE award. Siempre was released last month at the LCBO and will be participating in this year's Wine & Spirit Festival at Sugar Beach (June 16 – 17).
This year at the festival, Siempre will showcase their signature Vida Rosacocktail, along with a limited quantity of beach inspired cocktails served in a coconut! – situated at booth 38.
"Monica and I are truly humbled to have won in both the Platinum AND Consumer Choice categories at this year's SIP Awards! Thank you to everyone who supported us as we brought our vision of Siempre to life. The Wine & Spirit Festival is the perfect setting to celebrate these exciting wins and we look forward sharing the Siempre experience with festival guests," said Alex Lacroix, Siempre Co-Founder.
About Siempre
When it comes to the process, Siempre, Canada's first wholly owned Canadian tequila, takes additional steps to ensure quality and authenticity. Distilled in the town of Tequila, Mexico by Master Distiller, Agustin Sanchez Rodriguez, Siempre is made using traditional processes at a 150-year-old distillery. Made using 100% blue weber agave, Rodriguez uses a unique 50/50 fusion of highland & lowland agave for the fullest expression of tequila. It is then slow cooked in traditional brick ovens, double distilled and blended with volcanic spring water.
On the nose Siempre is peppery with fresh agave and a hint of cotton candy. On the palate it tastes soft, sweet and savoury with an exceptionally smooth spiced pineapple finish.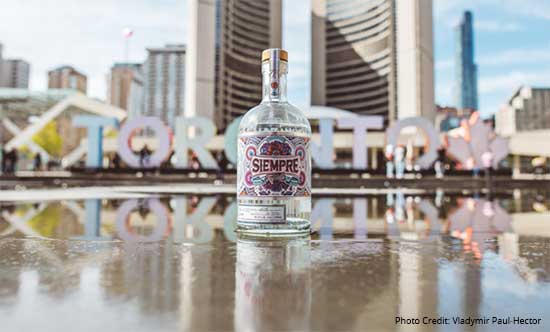 About Alex Lacroix and Monica Sanita
Alex Lacroix and Monica Sanita are the Canadian couple behind Siempre. They fell in love, quit their jobs and started making tequila. Having worked with brands such as the LCBO, Audi and Coca-Cola, Alex and Monica, an art director and advertising strategist respectively, set out to create the world's most beautiful and delicious tequila.
Taking a huge leap of faith, Alex and Monica decided to create a legacy that they could one day pass down to their children, continuing the tradition that Monica's grandmother and great grandmother began, making mezcal at home in Mexico.
About the Wine & Spirit Festival
The Wine & Spirit Festival is a national, two-day destination event showcasing the talents of the world's most renowned wine, beer, cider & spirit producers along with chefs and culinary personalities. A portion of all ticket sales will go towards The Music Therapy Trust Fund.
About the SIP Awards
The SIP Awards provides a unique judging competition for spirit brands to gain exposure, feedback, and recognition from unbiased consumers. As the only blind tasting competition of its kind, the SIP Awards offer a fair platform for top brands to showcase their products to their most discerning audience.