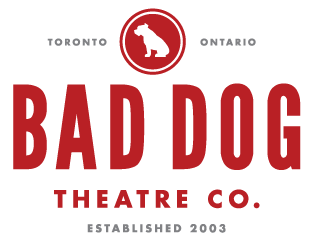 Beginning on Saturday, June 10 the Bad Dog Theatre will be moving its Saturday night programming back by one hour so our audiences can soak up the summer sun a bit longer!
The Early Show
A rotating show full of hot short form favourites starring the our best up-and-coming performers the Bad Dog Featured Players! If you're looking for a great way to get your Saturday started, this is it.
Your 9pm Theatresports ticket will also get you in to The Early Show for free. Just show up before 8pm to redeem it. Two rapid fire comedy shows to make your Saturday night complete!
The Early Show
8pm | every Saturday | June 10 to August 26
$5 online or at the door
or free with your Theatresports ticket
Theatresports
The Bad Dog Theatre Company's Flagship show, Theatresports has been making Toronto audiences laugh for 35 years… Theatresports mixes the edge of your seat thrill of improv with the crowd rousing energy of a sporting event, putting you in the middle of the side splitting scenes. Toronto's longest running improv show has been dressed-up into a tournament format like never before, the result is a hilarious roller-coaster ride that the audience can find nowhere else in the city!
Two teams of all-star improvisers go head to head on the Bad Dog stage in a battle for you love and laughter. Fast paced and full of energy, this the show to kick off your Saturday night.
Theatresports
9 pm | every Saturday | June 10 to August 26
Tickets get you into our 8pm The Early Show show for free!
Adults $15 | Students $10
Buy online or at the box office.
NOTE: SHOWS ON HIATUS
The Girls Show, Network Notes (Fridays at 11pm), The Curator, Throwdown, Filthy, and Superscene (Saturdays at 9:30pm) on hiatus until September!