Our daily purchases can change the world!
May 13-14 from 10 AM to 6 PM
Heritage Court, Exhibition Place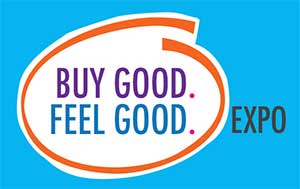 Join us in Toronto this May and shop Canada's largest exhibition of ethically sourced products ranging from ethical fashion, Fairtrade certified/organic food, artisanal home decor to sustainable travel experiences and responsible investment options! Our exhibitors support communities in Canada and in countries around the world such as Peru, Guatemala, Ethiopia, Mozambique, Nepal, Mongolia and many more.
This is a weekend that no conscious consumer should miss! Let us change the world one purchase at a time!
Saturday and Sunday May 13-14, 2017 From 10 AM to 6 PM – Heritage Court – Exhibition Place
Get tickets online at www.buygoodfeelgood.com
Share the event with your friends! #BGFG17
Tickets Link: www.tix123.com/tix123/eTic.cfm?code=BGFGE17