Toronto's Only Special Events and Entertainment Planner…
Informing and Performing Since 1994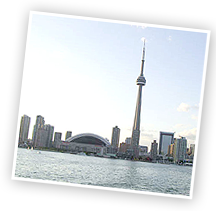 Over 20 Years and millions of readers in the making, HOToronto Magazine has kept on top of what's really HOT in Toronto entertainment.
HOToronto became more than just a new moniker for the city, but a portrait of an exciting lifestyle that gets more noticeable year after year.
Since its inception, HOToronto has been through the highs and lows of the economy, the change in city politics and the catastrophes that made us come together as a unified and vibrant tourist destination.
We launched our first issue the day the Rolling Stones appeared at the RPM nightclub for a ten buck admission, Cirque du Soleil was ready to hit Toronto with Alegria, the Molson Amphitheatre was ready to open for the first time… and our job was to tell everyone about it… in a fun and entertaining way. Our look was different and colourful, our approach was simple, our information concise, our purpose was to provide a guide to what was exciting and new for each season ahead in all areas of entertainment.
We invite you to join us on our continuing journey in expressing the dynamics of this city and all of its entertaining facets … all that makes Toronto HOT all year'round.