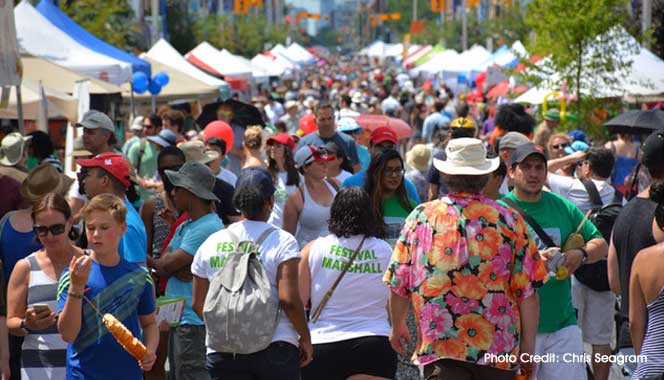 Toronto's BIG on Bloor Festival, winner of Festivals & Events Ontario's Top 100, returns July 22 and 23 for its 10th year with an expanded program, the inauguration of BIG Murals and BIG X, and festival favourites; BAAF, BIG Awards, Card-Yard, Celebrate Here, How We Live in Cities, JOUEZ, Savour Bloor and The BIG Market Place.
The outdoor pedestrian take-over liberates Bloor Street between Dufferin and Lansdowne for a celebratory car-free weekend, and animates West of Lansdowne along Bloor Street to the West Toronto Railpath through offsite projects. The festival that drew 100,000 visitors last year launches refreshed original arts and culture programming while celebrating community and small businesses with over 200 participants.
Two new initiatives promise big impact; BIG Murals will colour the Bloor Street skyline with large commissioned murals, and BIG X will showcase innovative sculptures, performances and live painting installations by over 20 artists at offsite locations.
Art institutions, collectives, galleries and artists take to the street with curated projects, and Toronto musicians deliver a glimpse of the city's vibrant music scene on the Celebrate Here Mainstage.